The Ultimate Guide to Tech Giveaways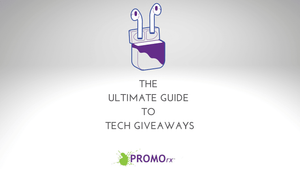 How to choose the right tech giveaway items, vet swag vendors, and get the word out 
Whether you are hosting an online contest or giving out promotional items at an upcoming trade show, virtual conference, or industry event, there is so much that needs to go into a successful tech giveaway.

In this post, we're sharing a detailed guide to help make your tech giveaway a success (and avoid any embarrassing missteps), including:
Brainstorming tech swag giveaways
In our experience, many marketing teams start with a Google search or 10 minutes of a regular team meeting to throw out some ideas. This is a sure way to head to a mediocre tech giveaway.
Here are some guidelines we recommend to ensure that your tech swag is on brand, on budget, and it is something that your target audience will use.
The branded swag you choose should align with your brand
This sounds obvious, but the biggest mistake we see is a disconnect between the brand and their tech giveaways. I think this happens when the person who is purchasing the swag doesn't truly understand and have a feel for the brand.
For instance, if you're selling a million-dollar piece of medical equipment, your swag shouldn't be the cheapest thing you can find. This creates a major brand divide. Whether you are selling a premium service or product, if there's a disconnect because you picked cheap and your brand says expensive, it doesn't make sense and will raise doubts with your audience.
How your logo will look on the tech giveaways


The swag you choose should work with your company design and logo, not the other way around.
Brands get into trouble when they try to make their design fit into an existing piece of swag. The reality is there are certain logos that are not going to work on certain items. They're too detailed. They're too wide, they're too tall, etc.
For example, earbuds continue to be popular, because who doesn't need an extra pair stashed somewhere. However, if your logo and tagline are yellow, and the earbuds only come in white, reading your logo may be a challenge.
Add your giveaway to the larger story
This is particularly relevant if your tech giveaways are for trade shows or conferences. 
Make sure you create a trigger or tie-in between what you are giving out and your underlying marketing message. This is most often done through storytelling. 
Don't be afraid to switch up your tech swag
The most dangerous thing a marketing team can say is we've always given out the same swag item(s) because we think people respond well to it.
With a few rare examples, this is the wrong approach. 
For example, one of the complaints that we hear over and over again is that people order swag for the entire year. And then they're stuck with it. By month 3, everybody's sick of it, and you don't want to keep giving the same thing out at every event because a lot of the same people are going to be there. 
Instead, you can switch it up every 3-6 months. For example, one of the most useful tech giveaway items that we're seeing is branded data blockers. They are also budget-friendly giveaways. New to the branded data blocker lineup are these data blocker keychains with connectors for the latest phones!
If you have the budget for premium giveaways, these power banks with built-in connectors are another solid option.
Don't just copy your competitors or the "big brands"
Playing it "safe" and copying your competitors or doing what a big brand is, ensures your brand won't be remarkable.
Instead, if all of your competitors are going right, then go left. Charting your own path allows you to stand out. While not everything you try will be a hit, the more you can flex this muscle, the more success you'll have.
Evaluating Swag Vendors  
The next step in the process is choosing a swag vendor. There are several things to be aware of when evaluating a vendor's website.
Are there lots of typos on their website?
Is the about us page about real people or just general corporate-speak that tells you nothing? (We call those soul-less!)
Is there a phone number to easily reach out to ask questions?
Is the website https/safety enabled?
Do they offer Apple Pay and Google Pay checkouts in addition to standard credit cards?
Here are some questions to ask to help you find the right company.
This starts with asking this question.
Are you going to align your brand with a partner who has your back, and will keep it real, or do you want to align yourself with a company that's simply going to take your order?
If you want a partner who will go out of their way to provide great customer experience and ensure that you are happy with the swag you buy, here are some questions the vendor should be asking.
1. Do they ask for brand guidelines?
We ask customers for their brand guidelines. This prevents a brand disconnect where the colors, font, or design look off.
2. Do they offer on-point suggestions?
One of the things I talk a lot about is going for best in category.
Let's say you're looking at a promotional water bottle or a custom journal. We're going to ask your budget. And if we have your brand guidelines, we know the color(s) you want. This allows us to offer alternate giveaway suggestions you may not have found on our website. And, yes, we have a private 'stash' of items we share with our tribe, not yet on the website. 
I think that getting to best in category is important and yet many don't bother to ask us is there something that's better? It's a great question because if you are looking for a partner, they'll offer suggestions and help you find the best swag in category. 
Also, can they share what's trending and what makes sense for your brand now? The current item that's been selling out over and over are these branded phone sanitizers. There's also one with wireless charging built in: Custom Phone Sanitizer
3. Do they understand the tech? 

Many times, the person ordering swag doesn't understand the tech, and therefore they can make poor purchasing decisions. If you're looking for tech giveaways, does the vendor know the category? If they don't, they will help you make poor decisions because they don't understand it either.
One of the ways you can determine that is by looking on a vendor's website and reading the descriptions. Is there something there that tells you they've actually tested the item? Maybe they're actually using it regularly? (If you look at my desk, you'll know the answer to that question here at PROMOrx!)
There are several power banks on the website  that I've personally tested, as well as members of my team. Then, we rewrite the product information based on our experience because if I've got an iPhone and you've got an Android phone and you factor in actual use, it can be important. 
Check out our companion guide Branded Power Banks Ultimate Buying Guide
Do they offer you the latest swag? An example is these wired logo earbuds. Most promotional earbuds have the standard audio jack. On iPhones, you need a dongle to use those generic wired earbuds. These logo earbuds have the Type C, Apple Lightning and micro usb connectors, no connector needed. 
If the vendor has expertise and skin in the game, they'll be able to coach you to find the best tech giveaways for your budget. This will ensure that your item(s) have the biggest chance of resonating with people and keeping your brand in front of them day in and day out.
4. Are they willing to tell you things you might not want to hear?
A partner is willing to listen and have uncomfortable conversations. This might mean pointing out a flaw with the swag item that you are thinking about buying. Or, even saying they aren't the right fit and referring you to another vendor.
We work with hundreds of companies across the country and even around the world. We can share swag trends, what worked, what didn't. But you need to ask or listen to utilize our expertise to help you make the best decisions when buying tech swag for your business.
Promoting your tech swag giveaways
Promoting your giveaway doesn't just happen during the event. There is plenty you can do before as well as after the event.
Here are a few examples:
Send out direct mail before and after the event.
Set up a branded hashtag and display it prominently on any banners, signs, or flyers you are giving out and of course in email or texts.
Set up a selfie booth at your event (this could also work for a virtual event by asking everyone to take photos after receiving swag you send), allowing people to take fun photos with all of the swag you are giving out. This works particularly great with branded t-shirts, hats, and sunglasses. Ask them to use your hashtag when they share the photos. BONUS: a selfie light that clips on laptops or phones would be on target giveaways for in person or virtual events!
Make sure your social media team is on standby to retweet or repost appropriate tweets with the hashtag.
Finally, tech giveaways alone are not going to give you larger sales.
Instead, incorporate your giveaway into a larger sales and marketing program.
Pro Tip: This works particularly great if your sales and marketing teams use an account-based marketing (ABM) strategy. 
For example, you can have people go to your website, sign and watch a webinar and then send swag after the webinar. This means you can track who is receiving the items. You'll know if it is contributing to larger sales.
***
When you commit to a tech giveaway, it is important to think through the entire process. This will help you maximize the ROI from the event.