Branded Power Banks: Ultimate Buying Guide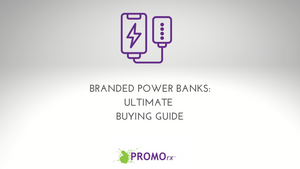 We all love our smartphones and tablets, but we hate when they run out of juice and we can't find a nearby power source. That's why buying branded power banks with your logo makes perfect sense! 
We found a fun way to charge phones, but not very practical. This is installed in a Dutch train station. It's the largest in the Netherlands. They've installed swings. Yes. Swings. Loads of fun, but kind of tough to put in your pocket! Video below.
Power banks are a great way to put your business or school name in front of hundreds of people every week and a terrific means to promote your brand. Your brand becomes synonymous with charging when it's needed themost!
When you are looking for branded power banks, you will find a number of things you need to consider before purchasing. The best power banks with your logo will share certain features depending on your budget. Features like charging speed, battery life, battery size, wireless capability and reliability all factor in.  
Should you worry about using a power bank to charge your devices? This article says no and based on our experience, we agree:  5 Myths About Your SmartPhone Battery

Branded power banks: buying tips
1. Power Bank Physical Size 
Many believe a smaller sized mobile charger is a good thing. Really small options typically are more of a power boost than a full charge. And if you're in the middle of hiking the Appalachian Trail, that could be a really good thing. (Carrying extra weight in a backpack is not a good thing we're told!) 
The size of the power bank should also be considered based on the logo or message you want printed or engraved. 
2. Power Bank Charging Speed
Why is charging speed important? The tech savvy crew knows that charging speed is important.  Amps range from .8 - 3.5A 
The higher the number, the faster the speed of the charge.
Same is true for wireless charging where 5W is base, but options are available in 10-15 Watts. 
3. Types of Phones to be Charged
Consider this: you can't know what kind of phone is being used. When you purchase branded power banks, you can assume there are as many Android as Apple users charging and just as many phones that have wireless charging capability as the older phones that don't. 
So, how do you determine the best promotional mobile chargers to purchase? There are many power banks that offer both battery charging as well as wireless charging. This is the best bet to cover the widest number of phones.
If you're going with a battery only charger, many will require that the phone's cable is needed for charging. This is the most economical option. 
4. Power Bank Battery 
 
Batteries are called out in mAh. That's milliamp hours. Typical ranges are 2000 mAh to 20,000 mAh. 
The iPhone 12 has a 2815 mAh battery. So to charge it fully, you need at least that size battery. Tablets and laptops have larger capacity batteries and would need need a larger mAh to fully charge. 
Power bank battery size is obviously not a consideration if you're purchasing a wireless custom charger.
5. Wireless Chargers
First, wireless charging is dependent on THE PHONE and not the charging device. If a phone isn't equipped with wireless charging capability, you will need a receiver card. And let's face it, no one wants another thing to have to carry around!!
The standard in wireless charging is Qi (pronounced 'chee'). Most of the major phone manufacturers utilize Qi: Apple, Samsung, etc. The latest Qi standard is for up to 15 watts. Many phones can only accept up to 7.5 watts.

These are the Apple model phones with the ability to charge wirelessly. 
Again, it's about speed of charging. You'll want the higher watt chargers for the quickest charging but that's assuming your phone is equipped to handle.
6. Custom Power Bank Price and Quality
We have a rule around here for suppliers we partner with: if your main product line is plastic items, typical price point, under $5, we don't trust you as a supplier of promotional power banks.
Several 'name brand' chargers are available to be customized with your logo in the promo space. Anker, Mophie, MyCharge and others. These will typically be pricier because you are paying for that brand name.
The generic power banks offered on our website come from suppliers we trust and have used for years without problems. We choose factories that either specialize in the tech space or supply higher price point items and we trust their attention to detail. 
Many of the power banks are tested by the PROMOrx team. 
7. Customized Power Bank Decoration Methods
Because power banks are often swimming at the bottom of a bag or backpack, selecting a metal case power bank branded using the laser engraving (no ink used) method is your logo's friend.
There are other portable chargers available with a full color (digital print). Because of the protective film applied as part of the branding process, many of these are also long lasting. 
PROMOrx will evaluate your logo and brand guidelines (if you have them) and make sure it will work for the charger you select.

8. Branded Power Banks:  Ultimate Features
There are two features that get top scores for convenience in the power bank category.
Built in Cables This means there's one less thing for you to carry around when on the go. Our favorite chargers offer several connectors so if you're team Apple and a friend is not, both of you can charge your devices.
AC Power Plug Nothing is more convenient than plugging the charger itself into the wall to power up. Not a lot of power banks offer this as an option and the ones that do are not the lowest price points.
We promise, once you have a portable power bank with this option, you'll never want anything else.
BONUS TIP: Consider the cybersecurity/Information security aspect of carrying your own portable power bank and not having to use public charging. This is one reason many of our clients provide branded power banks in new hire swag packages as well as using them for client thank you gifts.

Branded Power Bank Recommendations
1. This custom power bank sports a square shape instead of the more widely seen rectangles. Another benefit: cloth side is printed in full color! 
2. More of an emergency power boost promotional phone charger, but get this MADE IN NORTH AMERICA! There are very few power banks that are made in North America. 
3. With built in cables, this customized power bank is the epitome of convenience. Budget friendly, too! 
4. Wireless custom charger + journal? And for a touch of earth friendly, the journal is refillable! Look at the price and you'll understand why this has been a top seller.
5. Right on trend, this custom mobile charger looks great. But check the tech details: fast charging, wireless + battery charging. Function + looks = great marketing tool or thank you gift!
6. Clients are thrilled with this customized mobile charger for several reasons. First, wireless + battery charging, then, built in cables and finally, the ease of charging the charger itself with built in AC prongs. 
7. Custom wireless chargers are budget friendly options. (Remember, if your phone is not Qi enabled, they're useless.) We love the earth friendliness of this wireless charger!
8. Slide On Custom Wireless Charger Looking for a unique custom wireless charger? Stop. It's this one! Both pieces are branded at no additional charge in full color.
Power banks have become one of the most popular promotional gifts over the last couple of years. They pack a huge punch when it comes to being capable of charging your mobile phone. Their popularity has been boosted by the fact we all hate, or at least dislike, when our mobile phones run out of juice at the least convenient times.
Branded power banks are a great promotional item to ensure that your company or school is always present in the everyday routines of your customers.