A Comprehensive Guide to Virtual Events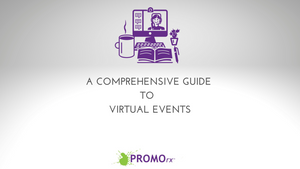 How to Plan, Host, and Run Virtual Events
Live virtual summits can be a great way to increase brand awareness, generate new leads, and educate customers and prospects alike about your company.

When done well, they can also create a powerful sense of community that helps people feel less alone and part of something bigger than themselves.  
Unfortunately, most companies today treat virtual conferences like extended webinars. I don't care how awesome your speakers and content are, no one is going to be excited to tune into (let alone share) a 5-hour webinar. Instead, it needs to be collaborative and engaging. You need to find ways to create conversations and connections online that normally happen naturally when you are face to face at a conference or trade show.
As someone who has organized multiple live conferences in Bangkok, Barcelona, and Austin as well as dozens of online-only events including webinars, community hangouts and large Twitter chats, I've learned a few things about how to host an event attendees rave about.
In this detailed guide, I'm going to walk you through everything you need to know to organize your first live virtual summit, including:
What are the benefits of virtual summits and virtual events?
Choose your goals
Create a plan
Start with the basics
Recruit speakers
Find sponsors
Create the right vibe for your virtual summit
Choose the right tools that complement the vibe of your virtual summit
Marketing your virtual summit
Communicate early and often
Create your agenda
Running the virtual summit
Follow-up post-event


What are the benefits of virtual summits and virtual events?
When you stop thinking about virtual summits as just "extended webinars," it opens up so many more benefits.
The benefits of virtual summits, include:
Increase in brand awareness
Generation of new leads
Bringing on new partners or affiliates (or strengthening existing relationships)
Educating prospects and customers on your product or service
Growing your email list
Developing new products.
Increasing revenue (i.e. through ticket sales, selling a product or service during the virtual summit, an offer after the event)
In addition, virtual summits are more eco-friendly than in-person events. I mean, think about all of the carbon emissions you are saving since people don't have to travel to attend.

Pro Tip: If you are an eco-friendly company, you can reinforce this by mailing branded water bottles or reusable straws

to VIPs, speakers or everyone as they register. Sending someone swag that's on-brand and useful is an easy way to make a virtual event feel more tangible and real.




Choose your goals
Before you start planning and getting into all of the event logistics, you should think about the goal you are trying to achieve with your virtual summit.
A great question to ask is -
"What would success look like?"
This allows you to reverse engineer a plan based on your goal.
For example, a virtual summit designed to build your email list will look different than the one that's paid and designed to generate revenue from ticket sales. 
The average time it takes to plan a virtual summit is around 90 days. Many companies start planning 4-6 months out. 


Create a plan
If you have ever organized an event - be it in-person or virtual - you know it is all about the details. Tiny details can end up making a big impact and be the reason someone rates your event highly, tells a bunch of colleagues, or decides to attend again.
This is why creating a plan is so important. Map out key components ensuring you don't miss anything major while at the same time helping you to think through all of the details.


Start with the basics
This almost seems too obvious to include, but the first thing to establish is when you are going to host this virtual summit.
What day(s) will this take place?
How long will it go?
Are you setting a limit to the number of attendees? Be it because of constraints with the software you are using to host it, scarcity, or something else?
The next thing to think through is whether this virtual event will be free or paid. There are pros and cons to each approach.  With a free event, you'll likely get more people to register, but you'll also have a lot more no-shows.
In fact, the average attendee rate for a free webinar is around 30%.
If you go with a paid virtual summit, you need to have a compelling offer to get people to register. Because they are paying money to attend, this also means attendees will be more likely to take it seriously, show up to any live sessions, and participate.


Set up a virtual event
With an in-person event, you have a budget, ticket sales goals, and hopefully a Profit and Loss report (P&L)  for your conference. Your virtual summit should be no different.
While virtual summits are typically cheaper since you don't have to rent out a venue or incur transportation costs (among many other things), that doesn't mean they are cheap to run. You still have marketing costs, AV/tech expenses, paying for software/tools, credit card processing fees, etc. 
In fact, did you know the average 350 person conference in the U.S. can cost well over $100,000 to run? 
Having a reasonable budget can help you create a virtual summit that stands out and allows you to bridge the gap between online and offline in creative ways and create a sense of community. (Read on for ideas on how to do this)
There's a lot of ways you can do this from sending swag to attendees as they register to various surprise and delight tactics. We'll talk more about this in the 'how to create the right vibe' section. However, this does require extra planning and budget upfront. It is still way cheaper than hosting a full live-event. 
Choose a topic
One of the biggest mistakes companies make is choosing a topic that is too broad. They pick a topic that is general thinking it will appeal to more people. When in actuality, it has the opposite effect. When you try to appeal to everyone, you wind up appealing to no one.
Instead, it is way better to go niche. The best topics are ones where you have extensive experience and appeal to your tribe.
For example, instead of creating a virtual summit on digital marketing trends, you could pick one trend - say Instagram ads for Tech Startups.
If your tribe is social media marketers at startups, this virtual summit will appeal to them way more than a general one on digital marketing.


Recruit Speakers
Most people think speakers will be the main draw in whether people register or not. However, in my experience, this is rarely the case.
If you have a big headliner like Gary Vaynerchuk or Mark Cuban, this can draw registrations. It is rarely the thing that moves the needle.
The quality of content matters way more for the overall participant experience and not for getting sign-ups. 
For starters, you want to think through how many speakers you really need. For new virtual summits, the number of presentations you need is typically less than you think.
Once you know how many speakers and presentations you'll have, I recommend creating a speaker brainstorm list and dividing it into three parts:
Dream list - people you would love to speak, but are a long shot
Stretch but doable - people who aren't guaranteed, but should be doable
Safety - these are the people who, if asked, will do it. This is typically anyone who is speaker that you already have a great relationship with
Here are some additional questions to think about:
Do you want any of your team members or customers to speak? If so, what's the topic?
How much of the virtual summit should be your team's presentations vs. experts in your industry?
How much cold outreach time are you willing to invest to recruit speakers - especially from your dream list?
Are you going to have a speaker application? If so, what does the vetting criteria look like?
These are all questions you need to think through.
In addition, most people think recruiting speakers is the most time-intensive part of this process. In actuality, the part that takes the most time is vetting and managing speakers.
The key to having great content for your virtual summit is ensuring that the speakers are delivering real value and not just giving a sales pitch. 
In my experience, the best speakers are practitioners. These are the people in the trenches actually doing the work, NOT just talking about it on the speaker circuit or sharing theories.
One of the best ways to find out what type of speaker someone will be is to either watch a few of their old talks or hop on a call. Don't cut corners on this step.
If you have a lot of "green speakers," it can be helpful to offer extra resources, including: 
Reviewing presentation outlines
Helping with slide design
Offering to coach them through a test-run or two
This is time-consuming but will pay off in dividends from an overall experience perspective.
Once you have all the speakers in place, make sure to clearly communicate deadlines. For example, many virtual summits will want to see an outline of a presentation as well as a description by a certain date or will require a test-run before the live virtual summit.


Find sponsors
While not mandatory, selling sponsorships can help pay for some of the costs of your virtual event and potentially make a profit.
If you choose to have sponsors, here are some questions to consider:
How many packages will you offer?
How many sponsors can buy each package?
How many sponsorships do you want to sell?
Who is responsible for sponsorship sales?
What does the pricing look like?
What's your process to ensure you fulfill the promises you have made to each sponsor?
Finally, it is important to find sponsors who jive with your tribe. This will make it easier to encourage them to take a more active role in participating in your summit.
Because virtual summits can feel impersonal, one thing sponsors can do is donate swag to the virtual summit. Just because the event is hosted online doesn't mean you can't have in-person touches. You can mail the items with a handwritten note to each attendee after they sign-up. This can create a surprise and delight element since a.) most people won't expect it from a virtual event b.) who gets physical mail that isn't bills or junk mail anymore.
Pro Tip: If you are looking for some great tech swag ideas, check out this post.
Create the right vibe for your virtual event
This is where you have the biggest opportunity to stand out and create a virtual summit that's worth talking about. It is all about creating a vibe where you foster serendipity, community, and connection between attendees.
With an in-person event, there is a lot of serendipity that happens naturally. For example, the chance conversation in the elevator, during the coffee break, or in the hotel bar.
For example, you should have a welcome committee for your virtual summit. It could be one person or several. Every time, someone registers, send them a personalized thank you video. This can be a 2-minute video from your webcam using a screencasting platform such as Loom.
Or, you can take it a step further and send them "swag in a box." Mail it to their office or home, and include a handwritten note.
In addition, set up a Slack channel, Facebook group, or an online community for all virtual summit attendees. Invite everyone in as soon as they register, and then encourage people to get to know each other.
There are a bunch of new collaboration tools that make it easy to make intros and encourage attendees to talk with one another, including: 
However, sometimes the simplest solution - like Slack DMs, Zoom chats, or a simple Skype call, can work just as well.
Pro Tip: One way to facilitate intros to attendees is to send a pre-summit survey. This is an opportunity to collect additional demographic data on who is attending and how they heard about the summit, which you can use for marketing purposes in the future and you can ask attendees what their goals are and any problems they are looking for help solving. Then, you play "matchmaker" and send intros to attendees with complementary skill sets.
It is about going above and beyond. When you focus on the details that put a smile on someone's face, this is the stuff that sticks, and people will share with everyone.
In addition, once the virtual summit takes place, there is no shortage of ways to create your signature vibe.
It is about creating rituals or traditions that are unique to your tribe.
Here are a few ideas.
Create "talk breaks" in-between videos (Ex: get attendees to send photos and display them in-between, so they can feel a bigger part of the event and see where others are tuning in from)
Signal presentation changes with intro music and costume changes. This is something Apple does extremely well with their launches. 
Use an interactive tool, like Slido, to create polls and Q&As during presentations
Set up attendee hotseats. 
Choose the right tools to complement the virtual event
Many companies try to fit their virtual event into a specific tool. In reality, the opposite works way better. Once you know what you want your virtual summit to look like, then choose a tool or sometimes a few tools.
There is no shortage of tools to use from webinar like options such as Crowdcast, Demio, RingCentral, GoToWebinar, and Zoom to live-streaming options such as Twitch, Youtube Livestream, and Facebook Live.
There are also virtual summit specific tools like Hey Summit, Remo, Hop In, and AirMeet.
Check out this post from CMXHub to learn more about each tool.


Marketing your virtual event
We won't get into the weeds here, because the way you market your virtual summit will depend heavily on your specific goal.
One of the best things you can do is participate in other virtual summits. Then, draw inspiration from what you like and sometimes didn't like about an event to craft yours.
At a minimum, you need a landing page for your event with a registration form. On the registration form, be sure to ask for their mailing address as well as email.
You should also have a marketing plan with key deadlines. This ensures you know which channels to focus on, and allows you to monitor your progress toward your goal.


COMMUNICATE EARLY AND OFTEN
Communication is everything when running an event. Internally, you should overcommunicate what you are working on with the team.
As for external communication, start communicating with people as soon as you open up registration. This doesn't just start the week or two before the summit. You should frequently be communicating during the ticket sales/registration process and then attendee specific messages. Don't underestimate how many emails you'll receive.
For example, set up a comms schedule with topics you want to cover and stick to it. This will help you stay consistent.
Here are a few topic ideas:
Share a behind the scenes look at the planning process
Announce new speakers
Send a pre-summit survey
Great communication will also go a LONG WAY in building good rapport and relationships with speakers and sponsors. It will also help you improve the attendee experience.


Create your agenda
Less is more with an agenda. Every new virtual event host wants to jam-pack their summit with dozens of speakers and presentations. While the intention is good, this creates a lot of extra stress and more opportunities for things to go wrong.
Instead, focus on fewer, but high-quality presentations. You should ideally have no more than 4 speakers each day of your virtual summit. Plus, how long can people really sit at their computer listening to talks in a day.
This also allows you to build in tons of "free time" in the schedule designed for watercooler moments and more opportunities for community and connection.


Do a test run


I strongly encourage everyone to do a test-run of all the presentations for your virtual summit at least 24 hours beforehand. Here are some key things to check with each presenter.
Make sure the WiFI is working well for you and all presenters.
Does the audio sound good? Is every presenter wearing headphones, in a quiet area (with a door), and ideally using a mic?
Does the lighting look okay? It is best not to record in a dark basement, or any room where you are back is toward a large window (i.e. shadow effect).
In addition, even if the test-run goes smoothly, it is a great idea to have contingency plans in place in case something doesn't work on the day of the live virtual summit. Here are some questions to think through:
What if attendees can't log in and join the talks?
What if your WiFi goes out?
What if the WiFi goes out for one of your presenters?
What if a presenter gets sick or doesn't show up at the last minute?
What if there are audio issues for either you or a presenter?
What would you do if an attendee posts something bad in the chat or live in a Q&A?
The more you plan and think through in advance, the better prepared you'll be.
Running the virtual event
On the day of the virtual event, hope for the best, but plan for things to go wrong. Some things you can do to increase the chances of success:
Assign one team member to man the attendee chat and Q&A engagement tools for the entire virtual summit (i.e. on social media, within the actual virtual summit, etc). This should be their sole responsibility.
Make sure to have an AV/tech team around to troubleshoot any issues on the fly as well as manage the technical part of the event.
Consider recruiting volunteers to assist w/ key parts of the virtual summit. This can include help with community moderation, being part of a welcome committee, taking notes in a collaborative Google Doc, etc.


Follow-up post event
Most people think the virtual summit is done once the webcam is off. That's not the case. How you follow up will dictate how people remember your virtual event and the success of any sales from the summit. Here is a checklist of items you should do after your virtual event:
Send any sales follow-up comms if you made an offer or sales pitch during the virtual summit. I recommend sending at least 3 emails with one being right before the sales deadline, if applicable.
Send an NPS (Net Promoter Survey) to all attendees. An NPS survey allows you to gauge how successful the event was and how likely people would be to tell their colleagues and friends about it.
Send personalized 1:1 thank you videos or emails to each speaker.
Send a personalized report to each sponsor with a thank you video along with key performance metrics from the virtual summit.
Ask for feedback from all speakers and sponsors ideally on 1:1 calls or video chats to find out what they liked as well as any suggestions
Send swag to engaged attendees and speakers after the event. Again, this is a great way to bridge online and offline, as well as stay top of mind long after the virtual summit ends.


Conclusion 
When you approach your virtual summit with the same amount of attention and details as a live in-person event, you'll wind up with better results. Virtual summits aren't just long webinars. Instead, the power of a virtual event lies in the ability to bridge the online and offline and create a real community feel.

---
Post Written By: Jessica Malnik is a content strategist and copywriter for SaaS and productized service businesses. Her writing has appeared on The Next Web, Social Media Examiner, SEMRush, CMX, Help Scout, Convince & Convert, and many other sites.
-->