8 Cool Tech Gadgets That Might Be the Next PopSocket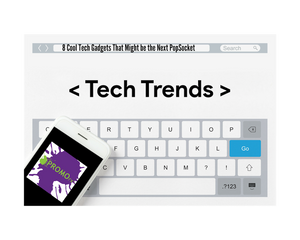 Updated February 2021
People simply cannot get enough of cool branded tech gadgets — and this is already one of the most exciting years yet for tech swag.
Projected to be one of the most popular items of the year, the PopSocket is but one drop in the continuous flow of cool tech giveaway items coming down the tech product pipeline.
We've put the spotlight on some of the trendy devices you should add to your company swag must haves.
1. Power Bank + Bluetooth Speaker + Wireless Charger
Individually, these tech items have long been available. The current trend in tech swag is combining tech gadgets.
This classic custom bluetooth speaker also has a standard power bank (for charging non Qi enabled phones) and a Wireless charger for phones that are equipped to wirelessly charge.
You've covered customers, prospects and staff, no matter the phone in their pocket! 
2. Custom Wireless Chargers
Just because you have a wireless charger doesn't mean your phone is equipped to charge wirelessly. Confusing.
When purchasing company swag, you want maximum use and maximum exposure for your brand.
How can you know if everyone who gets your swag has a Qi enabled phone? ANSWER: You can't. The custom wireless charger linked below is the perfect answer to that challenge. It combines wireless charging with corded charging and you recharge the device by plugging into the wall -- fastest way to charge!
With this custom wireless charger, you are off to the races. And winning. 
3. Virtual Reality Headsets
Virtual reality is more popular than ever. A virtual reality headset will feed your VR fix with endless games and 360-degree videos.
All you have to do is load apps or videos to your smartphone, insert the phone into the headset and start watching.
While your clients are watching videos, everyone else is seeing your company's logo on the headset. 
4. Bluetooth Speakers + Insulated  Bottles
Bluetooth speakers are all over the promotional marketing space as are the promotional insulated bottles.
Latest trend? Combinations.
This insulated bottle has the bluetooth speaker built into the lid and your company logo goes on the bottle for maximum visibility. This makes these insulated bottles perfect gifts for clients or business partners on the go.
5. Custom Power Bank Charger
In today's world your company needs to go to the front of the class with custom tech swag.
Rather than opt for the basic power banks, we prescribe this Power Bar Power Bank.  Go for a high energy tech giveaway. Click on that link two sentences back, you'll see what we mean! 
For tips and more recommendations, check out our Branded Power Banks Ultimate Buying Guide
6. Custom Branded Webcam Covers
Take these handy security giveaways to trade shows and watch them disappear.
Webcam covers are both practical and popular due to ever-growing computer and Internet privacy concerns.
Webcam covers customized with your company logo are great promotional tools for your company because, once on that device, your brand will always be displayed.
7. Data-Blocking USB Charging Adaptor
Speaking of security, this is THE  hot tech giveaway for your upcoming conference or trade show.
Keep computer hackers and identity thieves from infiltrating your devices with a data-blocking USB charging adaptor.
This tiny gadget can prevent data from flowing to your device while you're charging in a public setting. This simple piece of tech hardware does more than promote your company — it makes you look like a genius and leaves an indelible impression. 
8. Yes, we had to mention the Custom PopSocket
The PopSocket continues to be the tech gadget purchased in bulk in 2020.
Why? Let's see: It can be used as a stand, a grip or as an earbud corral. It supports almost any smartphone and some tablets.
It's compact, easy to use and just fun. And, best of all, we'll imprint your company logo right on the PopSocket.
Our fave this year is this Custom Iridescent PopSocket
This is the year of the gadget. It's also the year you've been waiting for to boost your company's exposure and get your brand out there.
Put your logo on any of these hot tech giveaways and watch your brand visibility increase by year's end. 
---
Want to stay up-to-date on the latest tech trends? 
We live and breathe all things tech and marketing swag. Every month, we share the best things we've discovered along with tips, insights and of course deals.