Company Swag for Tech Geeks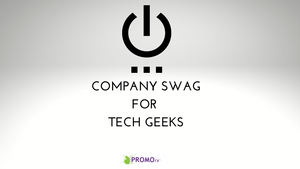 Updated February 2021
Company swag for the tech geek in all of us? We can assure you when the most advanced cybersecurity professionals in the world speak, tech geeks listen!
If you've ever glanced up and wondered if you should cover your webcam or hesitated because you weren't sure you have a secure USB connection, you aren't alone.
Recently, Black Hat, "The world's leading information security event," and gathering place of the most talented cyber good-guys on the planet, released their yearly Attendee Survey—"Portrait of an Imminent Cyberthreat," and it's a dark, cautionary tale.
One of their bigger concerns is that companies need to do better "hygiene" checks on their networks to protect themselves from dangerous hackers, but guess what?
Company cybersecurity and personal data security are as connected as our electronics. "Cyber-hygiene" begins at a basic level, including personal devices.
So what are the best company swag gifts for tech geeks this year? Secure, electronic accessories!
Branded Items, Meet Cybersecurity
You may be wondering if giveaways for employees or trade shows can have a real effect on the threat of cybersecurity.
The threat is real! Here's a perfect example.
Researchers from Google and the University of Illinois Urbana-Champaign and the University of Michigan scattered 297 USB drives around the Urbana-Champaign campus. 48% were plugged in — some within minutes!
You can read more by The Register's Shaun Nichols, but studies are clear, something as small as a secure USB can make all the difference.
And computers aren't the only electronics at risk.
The number of cell phone users has topped 5 billion subscribers, and while you may be feeling pretty chill about security if you don't use your phone for secure downloads, you may be more at risk than you think.
Have you ever used a public charging station?
If you're using a simple AC adapter to charge up, you're probably okay. However, if you're using the wrong USB cable, you have a serious problem. (We're going to show you an awesome, secure solution in just a minute, so read on!)
When a mobile device of any kind is charged using a USB, the device attempts what experts call, a "handshake," where a connection is made, and the information is exchanged in the form of both power and data.
And here's the troubling part: that data exchange goes in both directions, so you're not just receiving a charge, you're transmitting data! Hackers have found fast and easy ways to hack those public charging stations, putting your data at risk of being transmitted.
As far back as 2013, scientists and hackers recognized and demonstrated how easy, "juice jacking," —the act of stealing information at a public charging station — really is. It's cheap, easy, and uses readily available materials.
Gifts for Tech Geeks
If you're planning on giving away company swag and you're looking for the most popular tech gadgets, we've got some great ideas for you. Cool tech items for your company are our specialty at PROMOrx.
The use of tech accessories isn't going to change, even with the challenges we just talked about. The key is to be informed and know how to secure your data.
And providing secure solutions like branded items that help people function will be appreciated by anyone who receives them
Charging all of your electronic accessories with confidence is easy when you use a product like our Data Blocker.
Simply plug this adapter into a USB port and then plug your USB cable 




or flash drive into the adapter.

 Data pins are blocked, but the power isn't, 




allowing your device to charge as usual.

Choose from plastic or aluminum 

Now available with Type C connector 
There's also a new version that's a keychain that our clients think is the perfect answer to keeping data protection at hand. USB Data Blocker Keychain
But what if customers want to skip the public charging areas at the airports, malls, and restaurants completely? Consider an even safer option and look into products like portable chargers that don't rely on a public power source. Don't miss our Branded Power Banks Ultimate Buying Guide !
This Mobile Solar Charger is perfect!  
Charge this power bank via the sun (solar) or with the included cable  
Don't miss this power bank with integrated cables while you're clicking around!  
Don't forget VR: Virtual Reality. With so many work from home and schooling from home teams, these virtual reality viewers are geek gift #1! 
Another company swag item to consider are blue blocker glasses. All those hours in front of the computer screen can lead to eye fatigue. These promotional computer glasses would be perfect to add to an employee welcome aboard kit.
The tech geeks will line up for these coveted technology trade show giveaways: Clip on Case with Charging Cables, or these metal promotional charging cables.


Another company swag giveaway to add to your list are customized selfie lights. Many out there only work on phones, but this one will also work on tablets and laptops.
And to draw a crowd to your trade show booth? Or use as the perfect gift for  Team WFH or client thank you gifts? The Custom Phone Sanitizers  are ready to go. (Yes, they were on Shark Tank!)
The phone sanitizers are so popular with the COVID19 virus, we've found an alternate option with the same UV-C technology. 

This UV Phone sterilizer comes in two sizes, one is big enough to sterilize your phone as well as other small objects like keys or money clips. 
And our favorite branded Phone Sanitizer  is this one with built in wireless charging at 10W which is 'geek speed' as opposed to most that are 5W.
What if you're like the rest of us and feeling a little shy in front of your webcam? Your customers and company employees are probably feeling the same way.
Security isn't always about data protection. Sometimes it's just about feeling better about the electronics we use every day.
We've totally got your company covered!
One of our favorite products (and best sellers!) is this Branded Webcam Cover and Screen Cleaner.  This makes great swag for part of a WFH kit!
Full-color self-adhesive wipe that doesn't leave behind sticky residue

Doubles as a microfiber screen cleaner, yes it's small!

Covers laptop/desktop/phone cameras 

Can be removed and used over and over again

Comes in a plastic bag with webcam cover affixed to insert card 




with instructions on the back

Price includes

Full-color print on webcam cover and front of insert card.

 




Back of insert card customization available for an extra charge.
Branded Gifts That Pay Off
Company swag ideas that are useful are the most popular promotional giveaways. They're memorable and help brand your company in a way that pays off big!
But making them fun is what we do!
Promos can play on both sides of the street, being helpful and making good business sense, which is why we carry a full range of cool tech products.
We're here to help you make a decision about the kind of products that brand your company, fit your budget, and target your audience. And we'll help you every step of the way.
So give us a call...on a secure device, of course, and we'll get started today! 
---
Want to stay up-to-date on the latest tech trends? 
We live and breathe all things tech and marketing swag. Every month, we share the best things we've discovered along with tips, insights and of course deals.

---