Collegiate Swag: How To Build School Loyalty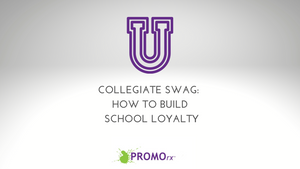 Don't miss out on opportunities to build school loyalty. Collegiate swag is a valuable option in your suite of marketing tools. 
Brand loyalty is the key to bringing in new students and keeping current students. Those who feel an emotional attachment to your school or university are more likely to enroll, donate, refer a friend, etc.
The key to building and maintaining brand loyalty is experiential marketing. Collegiate swag has the potential to create an emotional attachment for students and alumni; they become invested in the success of your school.
Collegiate swag helps you tell stories which build that brand loyalty and pride. It also drives new relationships with people outside of the education world and helps you develop deeper connections with student leaders and alumni.
Taking advantage of old-fashioned social media and clever word-of-mouth swag marketing tools are a top strategy for colleges who want to increase their sense of community and buy-in.
Use social networking to connect with alumni, help recruit more students to your school's activities and campus groups and spread the word about what makes your school special. (Make sure your marketing team has a hash tag or two ready and promoted!)
Utilize collegiate promotional items as the add on to social media to make it 'stick.'
School spirit and pride need to be high. Be it through social media outlets, sports teams, clubs and organizations or any other outlet that students can participate, they're looking for 'their tribe' and are openly proud of who they are as alumni or future students.
School promotional items use everything that's "okay" about your school—its history, tradition, identity, curriculum, and athletics—to drive interest among prospective students, boosters, or alumni. 
Here are some collegiate swag tips:
1. School Swag Should Match Your Brand 
First, utilize your school's brand guidelines if they exist. We find that many of our community college clients have their brand guidelines posted on their websites. 
The colors, fonts, logo, words -- and yes, the swag you purchase, all represent your education's brand and should be standardized. TIP: make sure all departments who will be using have access to brand guidelines.
Collegiate swag should match your brand in tone. If your university works with top MBA students as opposed to a local community college, your giveaways should be mindful of that. Buying cheap giveaways isn't going to earn you bonus points. But purchasing top of the price point swag for a local community college may not be the best plan either.
2. Your Current Students Are Gold
Developing alumni programs begins while they are still students. Every time a student interacts with your staff, a professor or fellow students, you have the opportunity to set up a lifetime relationship. 
Letting students know you understand their pain points is important. Putting your brand on easily spilled tumblers knowing students are working from a home desk setup doesn't make sense. Instead, choose an insulated option with a spill resistant lid. Smart choices = effective school giveaways.
3. Keep Students Enrolled
This is key. Many schools and universities are laser focused on bringing in new students. Keeping your current students engaged and enrolled is just as important. 
A special gift half way through the semester to acknowledge hard work: an unexpected branded journal for notetaking, a quality custom pen for taking notes, a promotional power bank so a dead phone isn't an issue, all are key to showing your school cares. 
What about master's programs? Students happy with their years at your university are more likely to enroll in these programs!
4. How Collegiate Swag Engages Alumni
Why is engaging alumni a good plan? Alumni are often your best sales and marketing team. Their experiences with your college make up memories they are going to be willing to share with friends and family who are prospective students. 
Don't forget about thank you swag for fund raising donations to your school or university! One of our university clients ordered custom journal sets with matching pens. These gifts were so well received, they ordered them a second time! 
Alumni are one of your best avenues for fund raising campaigns, too. Keeping them engaged through every touchpoint with your university paves the way to keeping your university top of their mind. 
The right collegiate swag program, as part of your marketing cycle makes sense. You don't have to be a school with a major sports program to cultivate pride and loyalty.
Resources for college swag ideas: 
15 Swag Ideas for College Students
A College Student's Guide to College Swag: What We Really Want
Branded Power Banks: Buying Guide