A College Student's Guide to College Swag: What We Really Want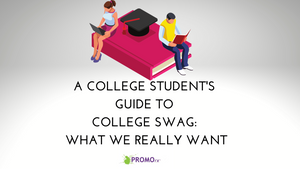 UPDATED April 2021
With student orientations approaching, and the beginning of the school year right around the corner, college swag is once again in high demand.
Today is your lucky day! I, a college student, am here to guide your college swag search. As a current student, I've been subjected to many a campus giveaway. And to be frank, I throw away half of the branded junk I get.
Through this experience, I've seen what gets trashed and what gets passed; most importantly, I know what gets used.
Students don't want a pen, or a pin, or a flash drive that they will never use and/or already own. We want something unique, something useful. We want…  
1. Branded Earbuds
"Do you have a pair of earbuds I can borrow?" I get this question at least once a day.
The need for earbuds exists on college campuses, so why not fill it with earbuds branded with your logo? Students will use these daily, which means your logo will be seen daily.
These Earbuds in a Bag are perfect for college students because the bag can be carelessly tossed into a backpack with no damage. 

2. Custom Phone Wallet Cases

These silicone suckers are so popular on campus! Students love the convenience of these custom phone wallets.
The cases provide an easy way to carry credit cards, student IDs, and cash around without the extra bulk of a traditional wallet. Think about the exposure your brand would receive when stuck to the back of a millennial's phone!
This phone wallet comes with a screen cleaner, providing even more of an appeal to college students.

3. Promo Water Bottles

This one is a no-brainer. Who doesn't need a water bottle? I carry one with me everywhere I go, and so does every other college student.
These promo bottles are perfect for college giveaways because of their durability and price point. A plastic bottle is a budget-friendly option, but go for metal if you really want to make an impression. Hint: the S'well Type Bottle will be the biggest hit.

4. Portable Chargers

In my opinion (and I am YOUR target market!), portable chargers are one of the best promotional items for college students.
We constantly need a boost for our devices, and there aren't always outlets nearby. Promotional power banks allow us to charge on the go, and your logo comes along for the ride.
Check out this power bank for a larger branding space, and try this one if you're looking for compact convenience. 
Our Branded Power Banks Ultimate Buying Guide is a great read for tips and more recommendations.

5. Bluetooth Speakers

Bluetooth speakers are very trendy right now. In my dorm we have a bluetooth speaker in every room (yes, including the bathroom).
Branded bluetooth speakers are unique and functional giveaways that everyone will love. These clip-on speakers are perfect for students' on-the-go lifestyles.

6. Custom PopSockets

Another one of those trendy tech giveaways that college students love. These PopSockets are everywhere around campus.

7. Drawstring Bags

You can't go wrong with a classic drawstring bag. I always find myself wishing I had an extra bag, but the bulkiness of typical duffels and purses aren't compatible with dorm storage limitations. This drawstring bag is the perfect remedy for college storage woes.
It's easy to fall out of touch with the college crowd, which is why I've provided you with an in-touch list of great promotional items. Each of these giveaway ideas combines functionality and aesthetic appeal for a marketing win. Choose any (or all) of the above college swag items for your next campus giveaway...and thank me later. 
---
Need more ideas? (I didn't write this one!) 15 Swag Ideas for College Students
Want to stay up-to-date on the latest college swag tech trends? 
We live and breathe all things tech and marketing swag. Every month, we share the best things we've discovered along with tips, and insights.

---
Our Blogger: Rachel Schmitz, a senior at Wake Forest University, curated this list of products.