What's Your Brand's Policy About Sharing Logo Space?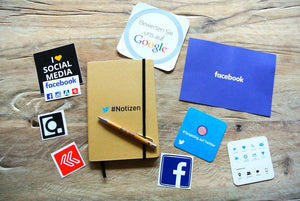 Several years ago, my husband and I purchased cars from a local car dealer. We waited for them to tag both cars and complete paperwork. We then headed to the parking lot to get the keys and drive away.
We got the nod the cars were ready and walked to the parking lot. On the back of both cars was a decal with the dealer's logo. I asked the sales manager if there was some discount for us daily advertising the dealership. He thought I was joking and tried to laugh it off. "Every car we sell has these put on them when prepped" he told me. "We've never had any one ask us to remove them." 
I told him to take both cars back to the service area and remove the decals. After years, when removed, there will be paint discoloration that is going to be obvious. No thank you. Then, there's the issue about advertising for the dealership for free. Shoot, I'd put a logo with MY business information on it instead of theirs. 
Most may not question this practice as you see it frequently. Just because everyone else is doing it, doesn't mean I'm going to. My husband calls me the SD. That's sh** disturber.
And that is the 'lead in' for talking about sharing your business logo space on corporate swag you purchase.
There are a lot of brands in the promotional product business that many consider and yes, even covet, sharing their company's brand space with. Moleskine is one. Many of the golf brands are another...Titleist is one of our top selling golf balls. 
There are brands, like Thermos that have the Thermos logo pre-printed  front and center on drinkware. Your company logo would be added above it. If I received that tumbler, I would be wondering who exactly it came from. Thermos? Or from your business?
In the promotional items business, there are several suppliers that have created their own brands to sell to promotional products distributors like PROMOrx. To me, these brands have no 'street cred' -- meaning they aren't sold in retail settings like Moleskine or Titleist. Many of the PROMOrx competitors tout these items like they were Nike or Under Armour.
Why would you want to share your company's branding space with a lesser known brand? Does this additional logo detract from your brand and brand statement?  (The pen in the above video is not one you will find on our curated website www.PROMOrx.com but you will see it on our catalog site www.PROMOrxPlus.com)
We have shared space with a retail brand (Contigo) and the PROMOrx logo. Why? Jay (my husband and business partner and resident coffee drinker says there's no better coffee travel mug.
We try to let clients know when they will be sharing brand space -- if we know. Look at many of the descriptions for corporate promotional gifts on our website and you'll see that information. Like here: Pen + Stylus + Tools 
Every business is different in how they approach this and we recognize that. We want our customers to have the ability to make an informed decision about the company swag or trade show giveaways they are ordering. 
Contact me for a free 15 minute company swag consultation. OK, 17 minutes--I'm a Southerner y'all!  888.553.9569 extension 3 or email Vickie at PROMOrx dot com
.