Why Brand Consistency is Essential to Your ROI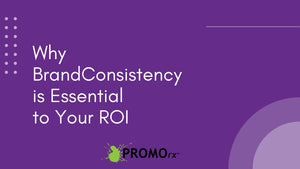 For business owners, it takes more than a good product to achieve long-term success. In today's competitive market, business owners must focus on building their brand if they want to make a lasting impact on consumers.
When it comes to proper branding, few things are more important for your ROI than consistency. Consumers expect your brand to evolve with them, but they also want the core values of your brand to remain reliable.
And yet, brands are inconsistent all the time, resulting in significant losses of revenue and loyal customers. Here, let's take a look at how your brand consistency can directly impact your bottom line.
Build an Emotional Connection
What do you think is more important to your customers: customer satisfaction or an emotional connection to your brand?
If your answer was the latter, you are correct. According to a study by Harvard Business Review, emotionally connected customers have more than twice as high a customer lifetime value than highly satisfied customers.
The key to driving emotional connections to your brand is to keep the message consistent. Apple is a great example of a brand that creates emotional connections to their products in every communication. When a consumer thinks of Apple products, they think of sleek designs and innovative technology. 
Their consistency and strong focus on building a lifestyle around their brand has led to emotionally invested consumers — consumers who won't even look at the other competitors before purchasing the latest Apple product.
The takeaway is clear: If you want your brand to be the first place customers shop for a product, you must be consistent with your branding.
Create Powerful Brand Advocates
As a business, you may feel very confident about your products and services are, but nothing is more powerful to potential consumers than a glowing review from a customer. Consumers trust each other more than brands, which is why it's every business owner's dream to have powerful brand advocates to sing their brand's praises.
Your most loyal customers don't just love your products — they love your brand and what it represents. The companies with the best brand advocates have successfully created a lifestyle around their brand by being consistent with their branding efforts.
Don't forget the best brand advocates are often your own employees. Since they are invested in the company's success, encourage them to share their stories with the community. Giving them cool tech gear with your logo can solidify their loyalty and help them spread awareness of your brand.
Stretch Your Promotional Budget
Have you ever experienced a brand disconnect with promotional products? It happens more often than you might think — and it can destroy a brand's ROI.
One example is an eco-friendly company that forgoes sustainable promotional items and instead chooses to hand out branded merch that is clearly not eco-friendly. Or a high-end luxury brand that believes handing out cheap, plastic promotional items will somehow resonate with their target market.
Every small business owner wants to save money where possible. But spending your dollars on cheap products isn't going to accomplish this, especially if those products aren't consistent with your brand identity.
To make the most of your promotional budget, you need to choose branded merch that aligns with your brand's core values, makes an impact on your target market and is consistent with your branding. Branded merch purchased using these guidelines will be less likely to end up in the trash, and will give you a lot more bang for your buck.
Set Consumer Expectations
We are creatures of habit. As customers, we like to know exactly what to expect when we shop at our favorite brands.
Branding should be considered a promise to the consumer. With consistent branding, you are building trust and reinforcing why a customer should choose your brand over the competition.
Inconsistent branding compromises this promise, disrupting the customer's experience and perception of your brand. If you're known for exceptional customer service, it would be damaging to your reputation and revenue if bad reviews were to suddenly pop up online.
With consistent branding, you can keep your promise to consumers and build greater trust in your brand. And as most business owners know, consumer trust is essential to driving sales.
Forge Higher Price Points
Why do consumers purchase UGG boots when they could purchase a less expensive brand? After all, they aren't the only company that lines their boots with sheepskin.
People remain loyal because UGG has done a great job with their branding. Their messaging assures customers that their boots offer unparalleled comfort and quality construction. Established in 1978, they have emerged as one of the most iconic footwear brands of the 21st century.
The Bottom Line
In our digital-savvy world, branding is more important than ever. With new ways to reach consumers and change their perceptions of your brand, it is crucial to maintain brand consistency at every touchpoint.
Whether you are just beginning to build your brand or have been in the business world for years, it's important that your branding remain constant. While your business may evolve and adapt over time, your brand identity should stay strong to achieve the best ROI in an ever-changing marketplace.