6 Tips for Setting a Smart Promotional Products Budget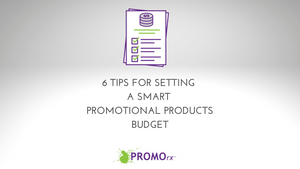 We'll admit that setting a promotional products budget isn't always the most exciting thing in the world. It's certainly not as much fun as choosing the softest t-shirt or researching the coolest tech giveaway. Even so, it's an essential part of running a successful marketing campaign.
A smart promotional budget does more than simply keep you from over- or under-spending. It acts as a detailed roadmap to achieving your marketing objectives, keeping your finances on track and putting your business on the path to success.
Of course, knowing the value of having a promotional budget and actually setting one are two different things. To help move the process along, we're going to give you our most valuable tips and strategies for setting a smart promotional budget that makes sense for your business.
Ready to see better returns with your marketing campaigns? With these tips, you'll be on your way to making smarter use of your budget and getting the ROI of your dreams.
Determine Your Objective
You randomly decide to order a bunch of cool promotional items on a whim. Sure, those promotional stylus pens with your logo on them are going to be a hit with someone—but with whom, and how do they serve your purpose?  
Before you start working on your budget, you first need to decide on your key marketing objectives. What do you want your marketing to accomplish? An increase in brand awareness? A more nurturing experience for existing customers?
Once you know your objectives, they should help determine the investment. Here are a few tips to help you set a budget that aligns with your marketing goals.
Collaborate with Your Team
Creating a promotional budget doesn't need to be a one-person job, especially if you're taking an objective-first approach. Get your team together for a brainstorming session and allow them to help you fill in the gaps of your budget planning.
For example, your team can ensure that you don't forget any primary or secondary marketing priorities in your plan. Let's face it; a lot of owners and yes, even marketing departments, don't have their goals written down, which makes it all too easy to forget specific objectives during the planning process.
Determine Which Promotional Strategies Will Help Reach Your Objectives
Once you know your marketing objectives and overall business goals, you need to determine which strategies and products will help get you there.
Understandably, this is where many businesses and universities go wrong. With hundreds of thousands of different promotional items to choose from, it's tempting to get caught up in the excitement and order products that don't make sense for your brand.
For example, a brand that sells luxury watches probably won't impress employees with promotional gifts that are cheaply made. Similarly, a brand known for its sustainability would be better off ordering eco-friendly swag to resonate with attendees at a trade show (virtual or in person) or conference.
To make the most of your budget, you need to come up with promotional strategies that will get the right swag to the right people at the right time.  
Research the Cost of Your Strategies
Now the big question: how much will it cost to accomplish your objectives? Your promotional strategies will take considerable time and money to implement, which must be factored into your budget.
As you estimate the cost of your promotional campaigns and strategies, beware of any hidden costs. For example, many marketing teams forget to factor in the time it takes to manage their promotions and measure their overall effectiveness.
Drill into Past and Projected Sales Data
Whether your company has been up and running for two months or two years, you can use your sales data to inform your promotional budget. Dig into your past and projected data to get a better sense of what your company's budget should look like.
Past Sales Data
If your business has been around for at least a year, you have enough data to help set a smart promotional budget. First, look at your past sales and retention metrics to determine which strategies, tactics and channels worked and which ones fell flat.
Don't be afraid to dive deep into your data to see how specific campaigns performed. This will tell you exactly what worked, allowing you to focus more of your budget on similar strategies.
Before you pull back your spending on things that didn't move the needle for your company, remember to differentiate costs versus profits. Some promotional items may give you sticker shock, but they can also deliver the best ROI.
Projected Sales Data
If your business already uses projected sales data to determine product inventory levels, this will be easy for you. You could get away with simply looking at your past numbers and estimating what your sales numbers will look like for the year ahead.
Of course, there are other ways to forecast sales as well. Both established companies and new startups should also take into consideration variables in their industry.
For example, look at the average sales data in your vertical during specific months. Do sales dip depending on the season? What other variables might affect sales in your industry?
Projected sales data may not be reliable, especially if you're not using historical data to forecast your sales. However, it does paint a clearer picture for your company and can help you determine your promotional budget.
Use the Competitive Parity Method
Another way to establish a promotional budget is by using what is known as the competitive parity method. This method involves allocating your budget in a way that is similar to that of your competitors.
The competitive parity method is used as a defensive strategy. By spending as much as or more than your competitors, you can keep your brand top-of-mind for consumers and perhaps gain a greater share of the market.
Advantages and Disadvantages of Competitive Parity
The competitive parity method isn't a reliable strategy on its own. This is because you are assuming that your top competitors know what they're doing.
It's also difficult to get an accurate picture of your competitors' spending. They aren't likely to share this information with you, which means that you'll need to find other means of getting it.
Still, competitive parity has its merits. Your competitor's promotional strategies must be working — otherwise, they wouldn't be successful. Using their budget as a framework for your own can be valuable when combined with other budgeting strategies.
Determine Affordability
Some organizations, will set their budgets based on what they believe they can afford. This is known as the affordable method, and while it may sound like a logical approach, it isn't without its flaws.
Keep Objectives in Mind
One of the main problems with the affordable method is that organizations often disregard their objectives while setting their budget.  
Sure, you can afford those branded tote bags and plastic water bottles. But are these promotional items going to move you closer to your goal of impressing important clients? Probably not.
Oftentimes, universities, schools, business owners and corporations end up wasting money by focusing too much on what they can afford rather than on what will best help them reach their goals. By making your objectives a primary concern, you can set an affordable budget that moves you closer towards your goals.
Be Aware of Over/Under-Spending
You've set aside a small budget for a promotion. Sometimes, it performs better than you thought, but you can't invest more because you've run out of money.
Sound familiar?  Many businesses as well as schools and universities encounter this problem.
In trying to keep marketing affordable, companies run the risk of under-spending and missing out on opportunities to grow their revenue. Similarly, misjudging the cost of promotions can lead to overspending.
If you choose to budget using the affordable method, gather your team and let them help you create a realistic promotional budget. This will reduce the risk of being surprised by hidden marketing costs.
Maximize Your Budget, Regardless of Size
As you can see, there are many ways to set a promotional budget. Although there are advantages and disadvantages to each strategy, you can't go wrong by keeping your company's objectives as a top priority.
From large corporations to small startups, every business wants to squeeze more value from their promotional campaigns. Here are a few tips to help maximize your budget.
Consider the Size of Your Audience
You want to give your audience unique promotional items that will make your brand memorable. Unfortunately, this can quickly become costly, depending on the size of your audience.  
Save the branded premium products for special clients or associates, and choose something more affordable for larger crowds. There are plenty of affordable yet useful gifts that will make an impact with your audience, such as cybersecurity giveaways, custom drinkware and branded pens.
Be Flexible with Your Budget
Things change quickly in the marketing world (reference 2020!). If you're not willing to be flexible with your spending, you could miss out on opportunities to grow your business.
For instance, maybe one of your promotional campaigns is doing extremely well, but you've run through the allocated budget. Try to find additional resources to boost your sales and achieve a better ROI.
Be Unique
You pay for a spot at an upcoming tradeshow or event only to hand out the same boring promotional giveaways as everyone else. Bad news: those promos aren't doing your budget any favors.
If you want your messaging to sink in, your promotions need to stand apart from the crowd. Send out creative marketing messages and make your brand memorable by choosing promo products that trigger an emotional response.
Choose the Best Promotional Branding Company for Your Organization
Not all promotional branding companies are created equal. Some lack quality products, while others miss important details.
Take it from an industry leader (that's PROMOrx) and choose a promotional branding company that is a true partner. The right company is one that will have the tough conversations -- sharing industry expertise on best category options, or considering the logistics of your event to save you both time and money.
Leverage Your Data to Remain on Track
Your budget isn't set in stone. You can — and should — move your money around depending on what is and isn't working with your strategies.
Establish a way to track your spending and analyze your campaigns regularly. A regular analysis will keep your sales high, and your marketing spend in line.
Choose the Best Promotional Items for Your Budget
Corporate giveaways, trade shows, fundraisers — there are promotional items for every type of event and occasion. But with thousands of promotional items on the market, choosing the best items for your business and your budget can be daunting.  
To make things easier, here are few promotional items that are trending now:
Conclusion
You don't need to be a math or marketing genius to set a smart promotional budget for your company, school or organization. However, it does take time to consider the small details that can have a big impact on your budget.
By using these tips, you can examine the various ways to set a budget and choose the one that makes sense for your organization. With a solid promotional budget guiding your promotional efforts, you can make the best possible use of your marketing dollars and put your business on the fast-track to success.