What Are The Best Corporate Gifts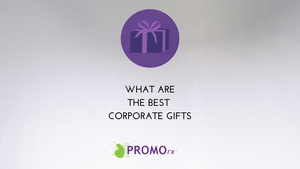 Have you ever wondered why corporate gifts are so popular? Have you ever been asked what are the best corporate gifts for clients or for staff? The numbers speak for themselves. As challenging as 2020 was for so many, sales in the swag industry were around $20 BILLION.  This is info from the Promotional Products Association International. 
Marketing teams would not be utilizing corporate gifts, company swag, advertising specialties -- there's a bit of a branding challenge in the industry -- if they didn't produce results. 
Corporate gifts tell clients and prospects or staff, they're on your mind. When they're done really well, they'll be around longer increasing your ROI. Smart corporate giveaways also share what your brand stands for -- quality, productivity, a little bit of fun or creativity, etc. 
There's a time and a place for basic, useful swag -- reusable tote bags with your logo (or the latest trend, a motivational quote or fun saying) are a trade show basic. Branded pens and custom post-it notes are office basics. Just make sure even in these less expensive corporate swag choices, you choose quality. Nobody wants a pen that skips or runs out of ink after writing one page in your journal! 
But the corporate gifts that hang around the longest are the ones to aim for when that's what the occasion calls for. (Executive corporate gifts definitely belong on this list.)
When it comes to coming up with ideas for company gifts, consider these buying tips: 
1. Make Gifts Relevant
Relevance should be applied to both sides. Yes, you need to consider the recipients of the gifts. Are the gifts for executives? Or your sales team? Or your support staff? 

Make sure the corporate gifts you select represent your business and brand with that same relevance with a nod to your budget. 
Be sure to read The Psychology of Swag.
2. To Logo or Not To Logo
We often suggest to clients NOT to brand corporate gifts with their logo. Surprised? We've been saying this for years. 
Recently, we worked on a project with a client to send Bose Headphones to recognize top sales staff. Their initial thought was to brand with their logo. Our suggestion? Don't.  If you're giving me an expensive gift like that, I'm not likely to need your logo to remind me where those really nice headphones came from.   
3. Create an Experience
People love receiving gifts and opening boxes. How many unboxing videos are on YouTube? And don't forget that element of intrigue and surprise! 
Branding the box with a message or your logo can help build the anticipation. Package fills like shred or tissue paper tell the recipient the details matter to you in saying thank you for business or recognizing your employees.
Consider sending the gift in two separate boxes at two separate times if it makes sense for the ultimate 007ish presentation. 
If your customers or staff are still working remotely, sending carefully crafted swag boxes for appreciation is definitely an experience.
Anticipation and the feel of the overall packaging is critical to making memories that will be talked about and appreciated!
4. Make The Gift Interactive
Is the gift you choose something that has an 'assembly required' portion? All the better. We're not saying that bookends or a mantel clock couldn't work in the right circumstances, but the more interactive, the better. 
One of our clients did a custom jigsaw puzzle and sent those along with other corporate swag items in a customized swag box. They tell us clients and their staff, are still talking about the puzzle. They're already talking about doing them seasonally because they were such a hit!
5. Gifts Should Stand Out
As we said earlier, there's a time and place for a good basic, quality promotional giveaway. We have clients that order the same custom insulated tumblers or insulated bottles over and over. It's their signature swag. 
That works in lots of situations. Getting in the everyday life of your customers or staff can be key. 
When you want truly memorable, choose truly custom, with details not available in standard swag or choose coveted retail brands like Apple AirPods, Bose speakers and headphones, etc.
And the last category? Personalization. We recently did Space Pens engraved with each gift recipient's name. That was a wow!
7. Choose A Long Lasting Gift
We know, everyone loves bits and bites -- food gifts and flowers are wonderful gifts in the right situation. Snacks as part of a story you're sharing can make sense. Many clients use snacks and office basics in swag boxes for a remote staff thank you gift.
Consider, after the treats have been devoured, because, yes, they were extra yummy, where's that reminder of your thoughtfulness? There's not one.
Spending a little more time and money choosing a gift that will be used for months to come does require extra effort. The payoff? Priceless!
Is this the year to make a big splash with clients, prospects or staff? Take the time to come up with unique corporate gifts that reflect your brand.