7 Tips for Business Gift Giving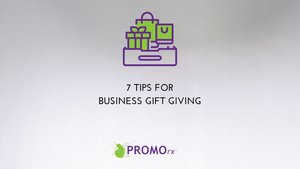 The Art Of Business Gift Giving
Business gift giving used to be a fourth quarter event. Through the years, that's changed, and now, businesses look for additional opportunities to stand out and show appreciation simultaneously.
This could mean selecting January instead of December for holiday gifts or sending a client or employee gift for a birthday or the first day of summer or last day of spring. Or just because. It could also be business gifts that are welcome aboard packages for new hires.
Should You Give Business Gifts? 
The answer is yes. Buying business gifts to show gratitude for business is just as important as creating company culture around gifts for employees. 
Make sure your selected gifts meet any rules imposed by the company you are gifting to. And if you're gifting your employees, you know the rules! 
Tip: Keep extra gifts on hand for unexpected opportunities to express your appreciation. Sometimes a gift with your company logo is appropriate and sometimes it isn't. If you have both handy, you'll know which is the best fit.
Personalization
You want your gift to be thoughtful as well as personal. Consider a beautiful pen engraved with the receivers' name or initials. Initials or names could also be added to portfolios, insulated tumblers or bottles and branded journals. 
People love receiving gifts with their name or initials! (TIP: make sure names are spelled correctly!)
Is It a Gift or a Promotion? 
We've talked before about gifts without your company logo. Not what you would expect a promotional products company to say, I bet. But here's the thing, if you're sending a gift with your company logo on it, isn't that more of a promotion? (which is perfectly fine in the right circumstance!)
Extra Points for Creativity
Presentation will definitely score points, too. Send a swag box with a decorated box + cool gifts inside and wait for the unboxing videos to hit social media! 
We recently did a custom gift for a client for their customers as well as their staff. Included in the box was a coffee mug and a wine tumbler. 'Helping you to start your morning and end your day, the right way' was the theme!! People are still talking about it they tell us.
Don't 'Cheap Out' 
Make sure your selected business gifts 'match' the value of your customers or staff. How do you do that?
Think about the life time value of a client. Think about the product or service you sell. If you sell $250,000 medical equipment, a $5 pair of socks could be considered cheap. (include them with additional gift items and you have a potential home run.) 
We'll protect the names, but we know a business that sells expensive equipment to dentists. They wanted a gift under $10 that would 'pop'. We offered several ideas that quite frankly, we didn't think 'popped' or were in keeping with the value of their customers.
They ended up going to their local Starbucks and purchased $10 gift cards. Think about that. The holiday gift their customers received was a $10 gift card. From looking at their website, average cost of the equipment they sell is 5-6 digits.
When it comes to gift budgets, businesses routinely try to see how little they can spend. If everything in your business is "top of the line," make sure your business gifts 'match'. Or sending no gift could be the better option.
That said, no need to blow the budget either. Sending a birthday card, or a hand written thank you note are appropriate follow-ups year round. 
Tip: make sure you consider shipping costs especially if gifts will be sent directly to your customers or staff at  home.
Show Year-Round Appreciation  
Timing matters as much as quality when giving gifts. Sure, most everyone sends gifts around the fourth quarter holidays. But, you may want to think twice. 
Show appreciation to your customers when they least expect it, and you'll go to the front of the class. Your thoughtfulness and the unexpected timing will be appreciated!
Have Some Fun 
You don't have to bust the budget or drive yourself nuts searching for the perfect business gifts. With some planning and creativity you can give a gift that creates a lasting impression.
So, have some fun. Bringing a smile to a customer or team  member's face is worth the effort!