Why Your Marketing Swag Shouldn't Always Include Branding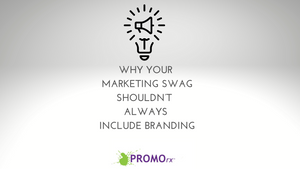 I know, you are thinking – a company focused on putting your brand on stuff isn't really telling me this, right? 
But here's the truth: unbranded swag can be just as effective used as a marketing tool as branded swag is as an advertising tool.
Spending money on giveaways that don't include the company's brand is a tricky proposition for some companies. But just as written content that does not specifically advertise the brand is a great marketing tool, you can also have a big impact with gifts that don't include the brand. Let's explore some of the reasoning behind this.
Who is receiving the swag, and what are you trying to achieve?

Branded swag is fantastic when you are promoting visibility for your brand or giving employee gifts. Swag targeted to impress existing customers can be very different than branded items aimed at attracting new customers, who may not have your brand top-of-mind. So when should you consider leaving the brand off – and how can it have a bigger impact long-term?

Swag as marketing, not advertising
Advertising aims at selling products or services, whereas marketing can have broader goals of engaging your audience with useful, valued items that will leave a lasting positive impression and encourage them to engage in future business with your organization.
Sending unbranded swag to valued customers is a subtler approach to boosting your brand image, improving vital long-term relationships, and eventually leading to follow-on business.

Part of an overall plan
When you are planning your giveaway strategy, it's vital to consider for whom the swag is actually intended.
Before you start discussing what swag to order, you should develop a list of personas for whom the giveaways will be used, and then consider what your goals will be with each target group, and how you can best achieve these goals with branded or un-branded choices.

The key here is not to your think of giveaways like an advertiser looking for an immediate sales impact.
Instead, think about which swag will genuinely engage and/or endear a certain persona with your company.
Giving swag that is unexpected, particularly appealing or valuable will produce such a strong connection with you and your organization that labeling the items with your brand is completely unnecessary.
By successfully engaging your audience with un-branded items which they will find memorable & valuable, the recipients will use or consume the gift with a strong positive association with your brand that will last beyond the brand impression itself. 
Blogger: Lisa Diesel

When your company needs branded or unbranded swag, contact the professionals at PROMOrx  Email TheMDs at PROMOrx dot com to schedule a complimentary 15 minute consultation with an MD* Marketing Doctor.