How Does a USB Data Blocker Work?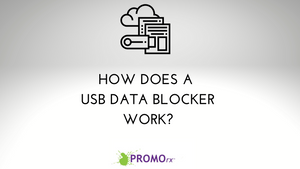 We know, there are those out there asking, what IS a USB Data Blocker (also called data block, data stopper, data blocker, usb condom and who knows what else!)? Our clients tend to call them 'USB data blockers' so we'll stick with that!
PROMOrx works with some of the most innovative tech companies and cybersecurity experts from around the world. One of our recent clients is one of those cybersecurity experts. She uses a USB Data Blocker personally and said she can't figure out why more people don't know about data blockers and use them -- especially business travelers.
Do you hyperventilate when your phone battery dips below 10%?  Us, too. And it explains the mad dash to the charging stations when you're out and about. 
At every turn there are free charging stations: airports, coffee shops, restaurants, convention centers, meeting rooms, hotels.

Why not plug your phone, tablet or laptop right in and charge right up? 
Here's why: plugging in to charge exposes your devices to possible malware or puts data at risk of being compromised. 
Cyber hackers install a tiny computer into public charging ports so when you charge, your phone's data is surreptitiously downloaded. It is commonly called "juice jacking." Your bank account login information, email accounts, social profile passwords, photos and text messages can all be transferred to the cyber hacker in a matter of moments. 
Cybersecurity expert  Brian Krebs was writing about 'juice jacking' back in 2011! Security researchers set up a charging station at a hacker's conference in Las Vegas. Close to 400 people plugged in their phones to charge. No malware was installed nor data stolen.  This charging setup was to make a point: Protect your data. 
In 2014, Brian Krebs was back sharing Gear to Block Juice Jacking on mobile devices. He mentions the USB Condom (sold retail, with no case) . These devices BLOCK the data pins while allowing the power pins full capability. It's the same thing as a 'USB data blocker.' 
How Do USB Data Blockers Work? 
A 'USB Data Blocker' is a tiny yet powerful device that allows you to take control of your mobile device charging experience. Connecting via the data port of your mobile device, the Data Blockers creates a barrier between your mobile device and the charging station.
Your phone will draw power as usual, allowing you to use it normally and charge it at the same time, but this clever piece of equipment will prevent any data exchange. 
Data blockers are available with Type A and Type C connectors. You will still need the charging cable that came with your device.
How To Quickly Test a USB Data Blocker
Using your charging cable, connect your phone to your computer USB port without using a data blocker. The phone icon will appear on your computer. You can transfer data between computer and phone.

Then insert the usb data blocker into your computer and your charging cable into the data blocker. You will not see the phone icon which indicates the data blocker is doing its' job.

If the phone icon does not show up, the USB data blocker is working and your data is safe.
TIPS TO PROTECT YOUR DATA


Do you have to choose between safe data and fast charging? No.
Simply buy a usb data blocker. 
To align your brand with safety, security and all around smarts, customize the data blockers with your company logo.

(BONUS: the PROMOrx recommended usb data blocker comes with an information insert and is available in aluminum or plastic). Not all on the market offer these details!) Now available with Type C connector, too.
Don't miss the newest USB Data Blocker Keychain, with 3 connectors!
---
Align your brand with the latest cybersecurity giveaway. 
One of our clients said that he had people lining up telling him - the branded usb data blockers - were "the best tradeshow giveaway item" they ever received. There's just not much we can say to top that! Our clients' enthusiasm for ordering these cybersecurity giveaways, USB Data Blockers, speaks for itself! 
Updated June 2021