5 Cool Tech Giveaways Your Business Should Know About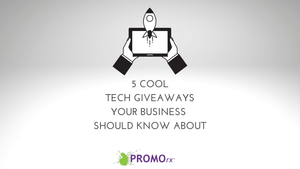 Are you asking 'what are the cool tech giveaways' for 2021?
How do we determine what makes the top tech giveaways list?
I could tell you my favorite cool tech giveaway and it might not be yours. 
We all work and play differently and have different smartphones, tablets, etc. 
We'll let you in on a secret...there are a lot more than 5 recommendations for cool tech giveaways in this post! Every business and budget is different. We want to show you options for tech swag!
Whatever your company's marketing budget, there's a custom power bank that will fit right in. Useful giveaways rule in the tech category, and this branded charger has it call including a built in wall connector.  The cool factor +10 on this  custom power bank has that touch of fun combined with function!
Can we talk convenience? This custom power bank charger  combines wireless charging with standard battery charging AND built in cables AND wall charger AND connectors for international travel. Top that! 
Ok, we just topped it, at least for those who like a little music for work or play! This branded power bank has a bluetooth speaker + standard power bank + wireless charging. 
For even more info, check out our Branded Power Banks: Ultimate Buying Guide
TIP: Wireless custom chargers area a hot tech giveaway. Did you realize only certain phones can charge wirelessly? Others must have an adapter specific to Android or Apple devices. 
2. Cyber Security Swag
Not surprising this has been a top giveaway category.
The top seller at a budget friendly price are these data blockers. 
New to the category is this data blocker keychain. Don't miss the convenience of this cool tech giveaway!
Many of our tech savvy clients know the data blocker category because of the retail version, originally called the USB Condom. Yep. The retail data blocker has been upgraded, but seems to consistently be sold out at 12.99 each. 
This custom webcam cover has been our top seller since last summer when our college intern declared this cyber security swag  the winner. Why? Her laptop closed. 
Custom usb flash drives are still popular with tech clients, school and universities, and most recently a major developer. Some clients pre-load data, including their catalog. (Confession: we don't get this usb flash drive category. We haven't used one in years! Nor has our summer college intern!)
Our top seller is this metal usb drive laser engraved with your company logo. These usb's are extremely small. Check the dimensions. (That's a standard size business card below for a reference point!)
TIP: If your logo is multiple colors, ask about tech giveaways that can be printed in full color. It's not as expensive as you may think. One of our clients buys these usb credit card shape drives printed with full color pictures front and back. 
BONUS TIP: 3.0v USB drives are overtaking the 2.0v Our tech savvy clients are making the switch. Why? SPEED! Ask us which custom usb drives are available in 3.0v (And there are 3.0v custom usb hubs.)
Custom bluetooth speakers have been so popular. Not the basic bare bones options, but those with features like the ability to print in full color or what we call the custom bluetooth speakers with a twist. A combination of features. Read on.
This bluetooth speaker combines with another hot trend: custom insulated bottles. The speaker is in the lid. And what a classy water bottle!
And this custom bluetooth speaker features wireless charging for your Qi enabled phone. 
This is our catch all giveaway category. Some of the trending swag giveaways aren't tech items at all. We are seeing start-ups and the tech crowd buying portable straws and customized journals.  Not traditional tech swag? But good company swag is about getting in the everyday life of your target market, right? Right!
Since so many are working from home, desk top swag rules. These work from home kits are still popular, months into the pandemic. These custom coffee tumblers are a cut above with their ceramic lid. 
We think these custom phone holders + screen cleaners could also be stress relief as they're 'squish-y'!
 And custom insulated bottles are still being ordered for both client giveaways and swag for staff on-boarding.
Our recommendations for cool tech giveaways may change, but several of these categories have been hanging on and hanging on. Useful giveaways = smart brand marketing!
Blogger: Vickie MacFadden, the PROMOrx.com owner. I'm a tell it like it is Southerner who loves tech and is insatiably curious. I'm the author of the infamous 5.5 Ways to Know if Your Company Swag Sucks Vickie at PROMOrx dot com 
Want to talk about your company's cool tech giveaways? Call me: 888.553.9569 extension 3