5.5 Ways to Know if Your Company Swag Sucks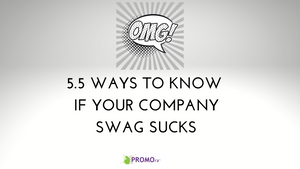 Updated: 1/22/21



A company swag products business owner telling you we've sold bad swag? Yep. My biz has seen and sold plenty of bad company swag, schwag, tschotskes, branded items -- call them by any name, still bad.  

PROMOrx has not sold swag items that broke easily or didn't work correctly. Our definition of bad company swag --- well, keep reading!

And admit it, you've been at a trade show or received swag at your office and said to yourself -- oh, my, what were they thinking??
So, how did PROMOrx sell bad swag?

We share our expertise and thoughts -- but many times, companies feel they know more than we do. Perhaps that's true, on occasion.  We shut up and take their order in most cases.

Some companies order swag directly from our website without consulting with us, which is certainly their choice and how e-commerce works.

After 20 years in the industry, we know certain suppliers provide quality swag items and others don't. We also purchase and test lots of swag -- and may ask you to test swag for us, too! That old adage about getting what you pay for? Mostly true.  
Our goal: to help clients make

 

the best

 

decisions when buying swag.


What are the 5.5 clues your company swag....

(A)Won't get used

(B)Gets trashed 

(C)Goes into the social media hall of infamy


Your logo is on a sticker or decal that can be removed, peeled up or scratched off. (Laptop stickers don't count!) Or your logo is printed on a case or cover that could be removed from the main item.
We recently deleted a screen cleaner from our website. Why? The case is printed, not the cloth. Are you going to fold and put these back in the case? No, you'll dump the case. And there's that naked cloth with no branding on it. (Our clients are loving this phone holder + screen cleaner. Great for team 'work from home' or back at the office.)  

2. You have one swag item you give to everybody.
Do you really think a C level executive is going to be happy with a cheap pen? (This is a great giveaway pen, but it's not going to entice the executive team!) You need giveaways for the 'hit and run' team as well as additional items for those that set up an appointment, watch a video, fill out a questionnaire or whatever your target outcome is for the event. 

3. There is a 'brand disconnect'.  A BIG one!
Your company is known for an expensive, high quality product or service. You purchase giveaways branded with your logo that don't support your brand. Your company swag needs to address the tone of your brand AND your target market's demographic.                                                      

An MBA program at a major university we'll politely not name, asked about custom water bottles. We recommended insulated stainless steel bottles that would not 'sweat' and kept liquids hot or cold for extended periods of time.

They came back and told us they had found a less expensive bottle. They had. Single wall aluminum -- those bottles will not keep anything cold or hot for long and it will 'sweat' like crazy in the summer when you fill with cold liquid. Did we mention the university is located in the hot and humid south?  

4. A small voice inside you says: "it's going to end up in the trashcan."
One of our clients ordered hard plastic iPhone covers with their logo printed on them. The marketing manager called me from the event and told me her manager was aghast at finding them in trashcans all over the convention hall. The marketing manager had not wanted to order these, but was overridden by her manager. When it comes to tech, one size does not fit all. And you really do get what you pay for!

5. Your logo is too small to be legible.
Some logos don't work on certain items. Period. If your company swag is a branding and marketing opportunity, don't you think it's a good idea if your logo can be read -- without assistance from a magnifying glass? Oh, could we tell you stories and show you pictures. We won't. We'll protect the guilty!  

5.5 If your logo has multiple colors and you're not taking advantage of printing in all its' peacock glory, your company swag may not totally suck, but could be better.

If you are ordering swag with one color prints to 'save money' -- it may surprise you to find options that not only won't break your budget, but could be less expensive. Ask a pro.
Contact me for a free 15 minute company swag consultation. OK, 17 minutes -- I'm a Southerner y'all!  

888.553.9569

 extension 3 or email Vickie at PROMOrx dot com