3.5 Mistakes You Don't Want to Make When Buying Branded Items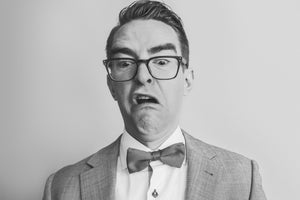 There's an article I saw recently that said: promotional products are old fashioned advertising that works. The article mentions several branded items for select target audiences. I disagree and offer some options.(Also known as getting on my soapbox!)
MISTAKE: article mentions "clients who golf at the best country clubs" and that you might want to "get them golf balls, tees, ball markers." 
SOLUTION: forget all the above. Golfers are picky and have brands they prefer…I have first hand knowledge as I'm married to a golfer! Most tournaments have tees and plastic ball markers, so why waste your company marketing dollars?  Umbrellas,  leather and canvas bags for personal items and beautifully embroidered golf towels are all better choices if you want something that will be kept and used.
MISTAKE: article suggests branded polos and socks. I have nothing against polos and socks--though I do wonder how much your logo is going to be seen on a pair of socks. When ordering shirts and jackets with your logo, you need everyone's sizes. Size variances can be a challenge. Do you have the time to track this down? Arrange exchanges for a different size?
SOLUTION: Pick an item that doesn't require sizing unless it's for staff or a specific event where you can get sizes as part of pre-registration. Embroidered hats and visors are very popular non-size specific items. Need other ideas? Contact us!
MISTAKE: article suggests giving the gatekeeper "something nice to pass along your information". I disagree with that attitude period. That's another blog post! But, the article specifically mentions coffee cups, note pads and mousepads. Why not bring a doughnut, a big smile and a thank you? It's not always about leaving a promotional item. (Yep. I just typed that!) Mix it up!
SOLUTION: Choose unique adhesive notes like these fun Slinky notes if you must have branded items for receptionists or office staffers. These adhesive notes are a combination of something practical and fun. These would also be great booth giveaways at your next trade show.
The .5 : The article ended by saying "cheap pens get lost". In my opinion cheap pens get thrown out and never used.  A pen does not have to be expensive to be nice, but knowing which ones don't leak or skip, is where working with self professed pen snobs, like the PROMOrx team, will pay off.
Selecting promotional products is about knowing your target market, budget and the results you want.
 Contact me for a free 15 minute consultation.
OK, 17 minutes--I'm a Southerner y'all!  888.553.9569 extension 3
Blogger: Vickie MacFadden, the PROMOrx.com owner. I'm a tell it like it is Southerner who loves applebutter (when there's enough cinnamon), red convertibles and the color purple. I'm into the details which is a definite plus in the promotional products business!