Unique Corporate Gifts for Valued Business Partners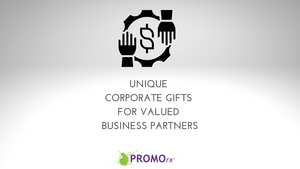 Updated March 2021
Steve Jobs and Steve Wozniak, Larry Page and Sergey Brin, Evan Williams and Biz Stone — these are just a few famous business partnerships that managed to change the world. Sometimes, business success can boil down to forging a relationship with the right professional.
Unfortunately, good business partnerships can be difficult to find — and to maintain. Whether you want to nurture a new relationship or thank an existing business partner, a unique gift is a great way to show your appreciation.
Need some unique corporate gift ideas for your valued business partners? Here are a few ideas that will express your gratitude and make a lasting impression.
Custom Bluetooth Speaker
If you don't know much about your business partner, a Bluetooth speaker is always a safe bet. This trendy tech gift is portable, useful and perfect for professionals who are always traveling.
When it comes to corporate gifts, quality matters. To impress your business partner, choose a Bluetooth speaker that is keeping up with the trend of combining the Bluetooth speaker with a power bank. This bluetooth speaker combines a traditional power bank with wireless charging for Qi equipped phones.
Executive Wine Lovers Gift Set
Does one of your business partners have a fondness for wine? Consider getting them Corkscrew Gift Set, which has the famous Laguiole Bee, an indicator of quality known world wide.
Custom Barbeque Grill Set
Does your business partner love any excuse to fire up the grill? Delight them with a custom grill gift set and you will never be forgotten.
Every time they whip out their spatula and brush, they'll remember your generosity. In fact, your business partner may not be the only one to notice this fine set.
Friends and family are just as likely to make note of your partner's new gift set. With so many people admiring your gift, you'll be glad your company logo is on such a high quality gift.
Executive Travel Bags
If your partner often takes business trips, stylish genuine leather garment bags are always an appreciated gesture. Or consider this genuine leather padfolio  that is sure to please the executive crowd with beautifully detailed leather. 
Branded Power Bank with Built In Cables
From smartphones to laptops and tablets, most of us have lots of devices that need charging. In fact, the typical digital consumer owns 3.64 connected devices.
It's safe to say that your business partner will get plenty of mileage out of a custom power bank. But to make the right impression, it is vital that the power bank has built in cables to charge devices quickly, no matter what circumstances life throws your way.
With a 5,000 mAH lithium ion battery and the convenience of built in cables, this power bank is guaranteed to keep your business partner charged and connected on-the-go. 
Custom Branded Bottles 
Go with a custom bottle, cup or tumbler for a partner gift you know will be used. Some of our client's favorites include this branded bottle with an attached carry strap. Can you say convenient? 
This custom tumbler is ceramic lined. Coffee aficionados will love this feature!
Final Thoughts
The best gifts for business partners are unique, memorable and meaningful. No C-level executive is going to be impressed with an average corporate gift.
If you need help finding unique gifts that really represent your brand, contact us! We have the ideal promotional items for any business and any partnership. We are happy to help you make the right impression with your business partners.