10 Career Fair Giveaways Your Company Can Use Now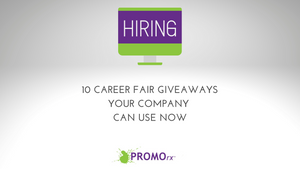 What are some of the best career fair giveaways? 
Long gone are the days where you can show up at the college career fair with cheap pizza and have hundreds of eager college students bending over backward to get you to hire them.

With unemployment sitting around 8% in the U.S. and more students starting businesses during or right after college, college students do still have options. Perhaps a few less than pre-pandemic. Many businesses flourished during prior economic downturns so this is still a great time to be recruiting!
If you want to attract amazing young talent at your workplace, you need to put your best foot forward. The right giveaways will not only get job seekers to visit your table but also get them talking about your company long after the event is over.

Are you a little out of touch with these TikTok obsessed college students these days? That's where we come in. 😉

We spend time studying the latest TikToks (okay, we might be a little addicted, y'all.), talk with our customers to see what career fair swag items are getting the best responses on college campuses as well as ask our resident, in-house college students (ahem our interns) what promo items they are actually using.




1. Insulated Water Bottles and Custom Tumblers


Whether you are going for a quick workout in-between classes, running errands, or simply staying hydrated throughout the day, insulated water bottles or tumblers are a safe, eco-friendly bet for any college career fair.

Not to mention, any VSCO college girl would surely tout a branded bottle across campus. 
Pro Tip: They are easy to spot on any college campus with their scrunchies, Starbucks coffee, and of course, their water bottle. 😉
However, you don't need to be a VSCO girl to appreciate the convenience of an insulated tumbler that keeps cold drinks frosty for 24 hours. 

2. Promotional Portable Chargers 


We live in a world that is ruled by our devices, and the amount of battery life left in them can make or break a moment. 

Portable chargers continue to be a hot commodity when it comes to promotional merchandise. A small, branded power bank can fit anywhere, and some of them can even charge multiple devices at once.

Students will have peace of mind knowing they can retain important information even if their phone's battery is at 2%. 
Don't miss our Branded Power Banks Ultimate Buying Guide for tips and more recommendations.

3. Branded Power Banks with Built-In Cables


You can take the humble power bank up a notch by giving out custom chargers with built-in cables. We love this one since it is compact and includes fast charging capabilities. Plus, with built-in cords, you never have to worry about not having the right charging cable with you again.

4. Customized Journals

Have you ever needed to jot something down only to discover your smartphone is dead? There's a solution for that: the branded journal or branded notebook. 

These customized journals or notebooks (we call this one a notebook with it's semi flexible cover), can be customized down to the edges and spine. The smaller size is a perfect job fair giveaway. 
Adding your logo to a journal not only offers job candidates a product they can use immediately (i.e. writing down phone numbers, notes, email addresses, etc), it's also showing that your company cares about the environment. 
This custom journal with a front pocket is another useful career fair giveaway.
5. Promotional Earbuds 
Earbuds are a great way to make yourself heard among students and anyone who may be around borrowing a pair. With their clip-on case, it will be easy to listen to music, podcasts or books on the go. 
The latest earbuds with logo are these with the connectors that work with the latest phones!

6. Custom Bluetooth Clip-on Speaker 




Compact and portable, this Bluetooth clip-on speaker is a fun idea when it comes to giving away a more substantial booth gift. Students need to decompress after the career fair is over, so why not offer them a really amazing tech gadget to help them do just that?
With your custom logo, candidates will have a constant reminder of your company's coolness factor, and isn't that what we're going for here?! 
And don't miss this Custom Clip On Speaker as a great job prospect option.

7. Promotional Smartphone Wallets

Bags are getting smaller these days. Yes, there are those still lugging around big bags, but many college students are choosing to forego purses altogether. Instead, they are opting for smartphone wallets, like this custom phone wallet, which includes a screen cleaner.

Or, this cell phone wallet that includes a portable stand allowing you to transport your driver's license, student ID, and a credit card or two on the back of your phone. Plus, when you have a few minutes, you can put the stand up and scroll through TikTok, search on Youtube or catch up on your favorite, binge-worthy Netflix show.

8. Desktop Phone Holder + Screen Cleaner 



Branded phone holders are a great opportunity to put your logo on a student's desktop. This clever phone holder works in portrait or landscape mode and the bottom portion is a screen cleaner. Stressed about a test? It could even do duty as a stress reliever! It's kinda like a bean bag.

9. Custom Selfie Lights

The college crowd likely remembers when they fell in love with selfie lights. It was probably at a concert, maybe even a club—one of those places where flash photography just doesn't cut it.

Not all selfie lights will work on laptops, they're made only to fit on phones. These will work on either.

Want to put your company on the map? These custom selfie lights are sure to be a hit!



10. Promotional Reusable Straws 

Save the sea turtles and show that your company cares about the environment. Reusable promotional straws are a great item to give out career fairs. Plus, they are portable, lightweight, and inexpensive, so you can bring a ton of them right within your luggage.
For a double dose of eco friendly, this eco promotional straw set has comes in a cotton pouch (not plastic!)

These metal straws are also reusable, rust-proof, and come in a branded  case that's easy to attach to a backpack.


***
In sum, these are 10 swag items that will set your company apart from the competition at the next career fair. You can opt for useful, fun, or a mix of the two, but whatever you choose, be sure to keep students in mind. Some of these are so cool, your staff or clients might also appreciate, so you get double duty!

Remember - career fair swag is also a marketing opportunity. Anytime a college student brings swag with them, they're marketing your brand to fellow students across campus. So, it is important to ensure that it looks professional and is high-quality. 
Last updated: February 2021