Vickie's Plan for Curing Quarantine Fatigue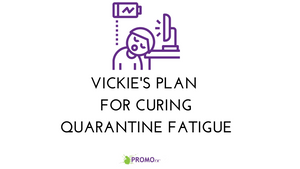 Raise your hand if you're suffering from quarantine fatigue. Mine is raised. Actually both hands are raised.  How am I addressing? ANSWER: Finding what works for me by staying open to new ideas/topics.

Here's what I'm doing (on the good days!) and what I hear friends and business associates are doing on their good days.
Be aware of what you're feeding your brain                   
There's a saying: 'garbage in, garbage out.' It's acknowledged we need some awareness of current events but make sure you're balancing with positive input like podcasts and books.

Podcasts I'm listening to:
Brene Brown's Unlocking Us (her books also excellent!)
Impact Theory with Tom Bilyeu (he started Quest Nutrition Bars)
The Knowledge Project with Shane Parrish (Farnam Street)

Fun YouTube channel: Alton Brown's Quarantine Kitchen series with his wife Elizabeth are hilarious, but you may pick up a cooking tip, too! And their dogs. Oh. My. So chill.
2. Be a friend. Be a helper. Find (safe) ways to contribute.
Reach out to friends with texts, emails, calls, Face Time. Many of us are struggling. I just sent a text to my hair stylist with a poster that said "cutting your own bangs is never, ever, a good idea." She texted back 'needed that smile today.'
Find opportunities in your area to help (safely). Sara Blakely, Spanx founder, who lives in Atlanta, is someone I follow on Instagram. She and her husband, Jesse Itzler (Marquis Jet, Zico Coconut Water and more) are both fabulous to follow! She posted this about what her family is doing.

Perhaps you have extra masks or hand sanitizers - reach out to friends or family and offer to share. We gave masks to family and friends who had health issues or were highly susceptible to the virus before donating masks to nursing homes and first responders through the business. One of my other favorite places to donate to is WorldCentralKitchen. If you don't follow Chef Jose Andres (who started it) on twitter, I highly suggest! He shares recipes and stories about WCK, too.
Are you the online ordering maven? Offer to get a neighbor set up on Instacart or find out if Whole Foods delivery is available in their area. Share websites for alternate ordering options. I've ordered vitamins and supplements off and on from Vitacost But did you know they have grocery items, too??
3.
Move 
Don't sit all day. Stretch, walk, practice yoga. Get outside safely. Per

this article

, we should be figuring out ways to safely be outside.

Put on music that 'moves you' and dance it out! Nobody's lookin'! What's on your playlist? I'm listening to Fleetwood Mac, Harry Styles, and Ludovico Einaudi. (My music tastes are admittedly eclectic!)
4. Meditation or Prayer + Gratitude
Whatever your personal beliefs, find quiet time consistently. Same prefer quiet and some prefer music and some prefer guided meditation. I fluctuate depending on my mood. Find whatever works best for YOU.
Gratitude: as author Brene Brown says, it's NOT an attitude, it's a practice.  I practice gratitude. Every day I say out loud or write down three things I'm grateful for. I focus on new things, not getting into the rut of recognizing the same thing daily. But it's perfectly ok for me to have 'health' on the list every day if that's how I'm feeling.
5. Kick Your Routine to the Curb
Not entirely, just change it up. And don't be so tough on yourself. This post from an RN at the Mayo Clinic really resonated with me over the weekend:
BONUS TIP: Find a new hobby or something new to explore. I've always been a decent cook, but for the first time, made bread. From scratch. Not from a mix. How did I learn? YouTube Videos!
A friend, who's a realtor, is taking on line courses for new certifications. I told her she's going to have more letters AFTER her name, than are IN her name!
I'm certainly not an expert. Most of us are simply trying to navigate our way through all this. I hope some of these ideas help you. Would love to hear about things that are working for you! 
BLOGGER: Vickie MacFadden, Owner, who is definitely suffering from quarantine fatigue.