Complete Guide to Virtual Event Swag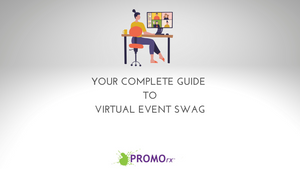 Virtual events have become the cost-effective alternative to in-person events out of necessity. Want to make your next virtual conference or virtual meeting even better? Then don't forget to incorporate the best virtual event swag!
Swag is not just an ordinary souvenir at virtual events. Swag is an essential part of the virtual event process, strengthening the relationship between the company and attendees—even though they are not face to face! 
Virtual events are all the rage. In 2019, there were only a few, but as of 2020 and into 2021, the number of virtual events soared and the numbers are still climbing. With all this growth in virtual event attendance, it's no wonder that attendees want nice swag to remember these amazing experiences by! But what exactly goes into creating a successful event swag package? 
In the digital world, it's possible to create a virtual attendee experience that is just as engaging as an in-person event.
Marketing departments in businesses large and small, as well as the events industry, are getting better and better results from virtual events. Practice does help and we've all had plenty of that during the pandemic. 
Selecting unique and usable swag for the virtual event is key. Branded swag should be an integral part of your virtual event.
We've got tips on how to select virtual event swag that will engage your attendees. 
Whether you're hoping to make your first virtual event successful or you're looking to take your next one to the next level, you've come to the right place. We've got some helpful information that will help make finding the best swag for your virtual event a little easier. 
1. Swag for your audience
Obviously, your attendees are working from home. That gives you clues leading you to make the best virtual event swag purchases.
We never understood why a tech company sent lunch boxes with plastic cutlery for a virtual event. You're home. You probably already have plates and knives and forks! We're still shaking our heads. 
Microsoft is sending out this Build swag to people who registered on day 1. It includes socks, stickers, a lunch box, and a lanyard pic.twitter.com/aHy1filDPp

— Tom Warren (@tomwarren) May 13, 2020
One of our customers sent every day brand name snack boxes. They didn't get great feedback. Why? All the attendees were, of course, Team WFH (work from home) and told them they had their own 'preferred snacks' in their pantry. oops.
What would have been better received in the food category? Perhaps a custom goodie box filled with a bit more upscale snacks than one filled with tortilla chips and peanut butter cups you can buy in your local grocery. 
Useful and functional swag combined with a touch of eco friendliness is what we hear most often as the requests from clients. It's also what clients tell us is the feedback they get from attendees. 
We also hear that having at least two items, if not more, is ideal, in the swag box. Of course you want your virtual event attendees to be pleased. Another great benefit of this: You'll feel less stress about trying to find THE perfect swag giveaway. Your attendees will be even more excited, too!
Some additional questions to consider:
what swag gifts could help a workday go smoother
is there swag that would make attendees feel more relaxed at the end of the day
is there swag that could include family
is there swag that would fit the theme of your meeting or conference
2. How much should the virtual event swag cost?  
When hosting a virtual event, you have fewer costs than in person events. In person events require a good chunk of your budget going to the venue space, set-up and breakdown crew, travel expenses, etc. 
When the event is virtual, those budget dollars can be applied to other categories like your swag boxes. (Or maybe you need to up your online software, but who isn't using zoom these days?!)
Consider the quality and cost of the giveaways for your event. You can either go with a single item utilizing your budget (branded uv sanitizers have been really popular and one client got rave reviews when they sent these custom collapsible bottles) or split your budget by purchasing multiple items.
Then consider packaging, including extras like tissue or shred, and an insert card if that is needed. 
Another option a lot of our customers are opting for is personalization - adding an individual's name in addition to your company or school logo. This is an extra charge and does take extra time. Our best advice is to make sure you get everyone's name spelled correctly! This is also a great option as you consider going back to the office. Everyone's name on a custom insulated tumbler keeps me from grabbing yours by mistake!
You must also factor in shipping the swag. Shipping costs have increased. Nothing any of us can do to control those charges. Also know that the size of the giveaways and therefore the boxes needed, can affect shipping costs. Also  fragile or breakable products will require special packaging to avoid breakage which could also increase the shipping costs.
Be realistic with your budget and swag choices. It will be tough to have a $25 all in swag budget per attendee and have a really nice gift. Shipping and packaging could take over half of your allotted marketing budget. 
Customize the swag boxes. Packaging is either important to you and on your radar or the focus is on the swag on the inside. Some of our clients think both matter.
If you have the budget and time, boxes can be customized to make that statement when they appear on each of your attendees doorsteps! Another option some of our clients are pleased with is a specially designed sticker that goes on a plain white or natural shipping box, in addition to the address label, alerting attendees to what's inside or perhaps special instructions.
If it's a virtual conference instead of a virtual employee meeting, consider adding a hashtag to the box if you're customizing it, insert card or box sticker for maximum social media exposure. Encourage those swag selfies or swag unboxing videos!
Ask your PROMOrx team about special shipping programs that can help keep shipping and packaging costs down.  
3. Prepare early for your virtual event
First, decide if you are going to do pre-event swag or post event swag. We'll tell you right now that swag set to arrive after your event will be the easiest as you won't be dealing with the pressure of a deadline.
If pre-event swag is your choice, prepare early and allow extra time. You need to allow extra time for your swag of choice to be branded with your logo or message.
You also need to allow extra time for your virtual event swag boxes to be delivered. If it normally takes 3 days to arrive, we'll highly recommend doubling the time allowed to assure your virtual event swag arrives in plenty of time for the big day.
(NOTE: as of this writing, both UPS and FedEx have discontinued service guarantees. Here's what that means: let's say you choose to ship your event swag using the 2 day express method. When the service guarantee was in place, if your package took more than 2 business days to arrive, you could ask for a partial refund unless it fell under the act of God part -- meaning weather, etc. But remember, your swag package still wouldn't be there. Now, with the guarantee discontinued, all bets and all refunds are discontinued. )
As part of your preparation, do you have a theme? It could be fun to have a 'we've got you covered swag box' or perhaps a 007 themed event box. Cooking nights and cocktail hour nights have also been popular swag box themes.
4. Consider your branding
We get it, the marketing department or the business owner or CMO may not love the thought of customizing swag with no sign of your logo. This has, however, been a huge trend. 
Well designed swag gives attendees a feel for your company's personality. It's part of the virtual event experience. If you choose to use your brand logo or not, well designed decoration for the virtual event swag is key.
Don't forget to use your brand colors! Even if you choose not to brand with your logo, using your brand logo colors still gives your brand recognition. 
A client ordered custom journals for their virtual event.  The front cover of the journal was printed with a beautiful graphic. Their brand logo was hidden in the graphic. It was very cool. (We should have suggested a 'Where's Waldo' night!) Another client ordered a notebook type branded journal customized with a motivational quote and again, no sign of their logo. 
And another order included a gratitude journal and pen set, no brand logo.
Another client chose to order very unique custom backpacks with no logo and no message or quote. The backpacks were made from upcycled material and make quite the statement. Their thought was that the backpacks were so unique it would be hard to forget who gifted them. Plus they all took selfies with their backpacks and uploaded pics to their Slack channel. 
Prefer to go with swag printed (or debossed) with your logo? No problem! We're here to make sure your virtual conference or meeting swag is customized to your brand specifications.
The key is you want the virtual event swag to be kept and used. If your brand and logo are very hip and coveted, by all means use your brand logo. What brands come to mind in this category? SpaceX, Tesla, Apple, Google and others. 
If going with only your logo, know that most factories go with the bigger is better method when it comes to your logo. We don't. Scale matters. Pay attention to the details! We're here to help with that!
5. Virtual Event Swag Ideas 
Every business and every event is different. We know that hearing what others have purchased helps spark your creativity.  We've compiled some of the best event swag ideas for virtual events for you to peruse. 
One of our clients holds monthly team meetings since they are working from home. Starting last spring/summer, we have helped them put together a 'team morale' swag care package monthly. We handle drop shipping these packages to all of their staff.
One month they'll send branded swag with their logo and the next time, it may be a funny quote or a motivational quote printed on the swag. Some of the items they purchased last summer are now on the schedule to be repeated (notebooks or journals for example). How are you letting your remote team know they are appreciated? 
All of the custom items listed below as ideas are items we have access to, but they aren't all on our website. If an item can be printed, we can help! Heck, we even found a cast iron skillet for a client for their cooking night package. That was definitely not cheap to ship! 
Swag theme ideas:
cooking (package with a pizza stone and a pizza cutter and a recipe card)
taco Tuesday kit (yes, we have one!)
game night (puzzles, desk top bean bag toss, playing cards)
vacation (sunglasses, water bottle, beach towel, custom bluetooth speaker with selfie remote)
reading night (book or two, coffee/tea tumbler, journal, coloring journal
movie night (popcorn gift set or cocktail gift set with everything but alcohol, custom wine tumblers
work from home in style (mousepad, mouse, custom selfie light, note pads
wellness kit (puzzles, water bottles, face mask, exercise bands, uv phone sanitizer
the beat goes on (earbuds or headphones, custom drum sticks)
007 Kit (earphones/earbuds, sunglasses, phone stand
got you covered kit (inverted umbrella, face mask, tech organizer, mini bean bag game)
welcome new employees (journal, pen, post-it notes, insulated cup)
earth day swag with all recycled or reusable items
holiday boxes: Valentine's, St Patrick's Day, Canada Day, July 4, etc
Swag theme ideas universities and colleges:
college care package (insulated bottle, cell phone wallet, backpack)
welcome back to school box (phone charger, bluetooth speaker, insulated bottle, earbuds, silipint silicone cups)
surviving finals kit (notebook, pen, phone charger, stress tangle, rubik's cube
studying from home package (phone holder, screen cleaner, insulated bottle)
congratulations on graduation (books, journal, executive pen)
BONUS>>>Virtual event interactive ideas: 
home scavenger hunt. Show items. Have a prize.
virtual happy hour. Provide recipe. Everyone makes and toasts on zoom.
movie night review. Decide on movie. Watch. Get back on zoom to discuss. Could do same with book club.
karaoke
find a magician to do card tricks
play bingo or cards
trivia game
silent disco (send headphones. Put together a spotify list of attendees' fave songs. With camera on mute, you could dance and listen to potentially new tunes!) 
Finding the best virtual event swag is a process. It does take some thought. Don't get overwhelmed. We're here to help. We'll take care of the process so you can focus on making your next virtual event the best.