5 Reasons Why Custom PopSockets Are Valuable Swag for Your Business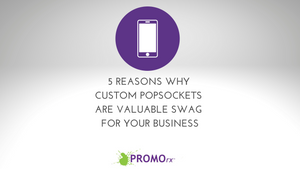 Move over fidget spinners — there is a new promotional item rising in the ranks of the retail segment. PopSockets are taking the world by storm, and they are poised to be one of the all time hottest promotional products.
A PopSocket is a tiny smartphone accessory that sticks to the back of your device. This small, circular contraption allows users to get a better grip for taking selfies and can be used as a stand to watch videos.
As far as branded promotional items go, it doesn't get much better than a custom PopSocket. Here are five reasons why these nifty accessories need to be part of your company swag:
1. Puts Your Brand Front and Center
We all know that smartphones are prime real estate for advertising. Consider the following statistics:
77 percent of adults in the U.S. own a smartphone, according to Pew Research Center.
85 percent of consumers keep their smartphone within reach all the time, according to a study by B2X.
BusinessInsider reports that the average cellphone user touches their phone 2,617 times every day.
Let's face it: Most of us are addicted to our smartphones. By putting your company logo on custom Popsockets, your brand visibility is guaranteed to skyrocket!
2. They're Useful, Functional, and Fun!
There is no need to worry about your branded PopSockets ending up in the trash after a trade show or conference. These little smartphone accessories serve a variety of functions, making them one of the coolest tech giveaways at any event.
PopSockets are the type of accessory that you didn't know you needed. Say goodbye to clumsy selfies or using impromptu items to prop up your phone.  PopSockets make watching videos and taking selfies seamless, plus they act as an earbud holder as well.
3. You Can't Beat the Value
Considering how much mileage you're going to get out of your branded PopSockets, there are few tech promo items that can rival these useful accessories in terms of sheer value. PopSockets work on all types of devices — from smartphones to e-readers and tablets.
But when you're working with a limited promotional budget, you need to ensure that you make the most of your branded swag. Fortunately, PopSockets are a smart promotional choice that can deliver a powerful ROI for your marketing budget.
At PROMOrx, order in bulk and you'll get a great deal on the original PopSockets. Just like all of your other promotional products, it's important to choose quality products to represent your brand. We can imprint this trendy item with your logo for just over $5, which makes this crowd-pleasing giveaway very budget friendly.
4. They're One of the Hottest Tech Giveaways
Cool tech gear is the hottest category in the promotional products industry. If you don't have at least a few tech-related items as part of your company swag, you're not going to impress today's digital savvy consumers.
PopSockets are becoming one of the hottest promotional items for cool tech giveaways. Useful, cool and trendy, they are every marketer's dream for branded swag.
But keep in mind that they won't stay trendy forever. Get in on the PopSocket craze while you can, and you'll stand apart from competitors who waited too long to order these top-selling Popsocket accessories.
5. Stylish Celebrities Are Rocking PopSockets!
If you needed reassurance that PopSockets are indeed a trendy item, look no further than some of the most famous celebrities sporting them today. From Reese Witherspoon to Gigi Hadid, the PopSocket has made its way into the lives of the rich and the famous.
And with the power of social media, PopSockets are front and center in celebrity selfies. The iconic mirror selfie shows off the PopSocket in all its glory, which means that your company can get maximum exposure when consumers take selfies with your branded PopSockets.
Unlike other trends, consumers don't need to have celebrity status to get their hands on a PopSocket. Their usefulness and accessibility has allowed them to become mainstream, and smart marketers should leverage their popularity for their brand.
Conclusion
There is no denying the rise of PopSockets in the branded promotional business. Consumers can't get enough of them, and this year is expected to be the year of the PopSocket.
Our advice: Don't wait to get in on this trend. Contact us today and we'll help identify the best swag to get the highest return-on-investment that really makes an impact.