Branded to Thrill: 5 Reasons Quality Matters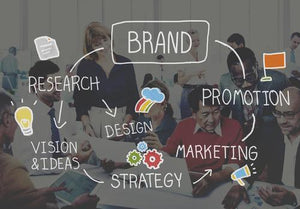 As a small business owner, you're likely looking for ways to reduce costs and get the best deal possible. But when it comes to your company's branded products, you can't afford to cut corners or settle for the bare minimum. A half-baked promotional strategy will result in half-baked success, which means wasted money and time.
The truth is quality and presentation matter more now than ever. Consumers have high expectations for your brand, and they won't settle for cheap, boring promotional products. If you want your branded items to make a lasting impact, they need to be high-quality, useful, and relevant to your target market. Still not convinced? Here are five reasons why the quality of your branded products matters.
1.) Branded Items Do Reflect Your Brand
We've seen it time and time again: Small business owners and marketing managers order cheap promotional items and squeeze as much of their company's information on them as possible.
This isn't doing your brand any favors. In fact, it's most likely hurting your company's reputation as a vibrant leader in your industry. Promotional products are a reflection of your business and your brand. When used correctly, they are a powerful way to spread your brand's message and tell a story. Used the wrong way, and they might sink consumer trust in your brand and damage its reputation.
From design to presentation, every detail matters. Keep your design elements clean and minimal, choose quality promotional items and present your branded swag in a unique and memorable way. By focusing on the smaller details, both your brand and your audience will reap the benefits.
2.) Less Is Not More
Sure, you've managed to handout 1,000 plastic keychains with your company logo and website on them, but what happens when they stay on the bottom of the swag bag?
If your promotional products aren't unique, useful, or valuable, your audience isn't going to hang onto them. Now, a custom PopSocket with your logo on it? That's something that tech-savvy millennials are going to use every day.
While going the cheap route may seem frugal, it's a waste of your promotional budget. To get a better ROI, consider investing in a smaller quantity of higher-quality promotional items and prioritize who receives them, based on your marketing objectives.
3.) Low-Quality Products Don't Last
Many people use their mobile chargers every day, which can make them a valuable promotional item. However, if you choose the cheapest material possible, and the branded logo wears off quickly, it won't land the best impression.
There are endless options for promotional items, and many businesses instinctively want to pick the most cost-effective option. It may seem fiscally responsible, but marketing data will tell you that you'll get more mileage out of 500 high-quality promotional products than you would from 5,000 low-quality items.
The cost may be higher for you to upgrade your product's material from plastic to aluminum, but it will make your product last longer and have a lasting impact. Additionally, consumers will appreciate the higher-quality design compared to poorly-made swag.
4.) First Impressions Matter
According to research from Princeton, all it takes is one tenth of a second to form a first impression. Do you really want your audience's first impression of your brand to be made from cheap-looking branded swag?
Luckily, you don't need to purchase expensive promotional products to make a good first impression. Rather, you just need to choose items that are relevant to your target audience.
For example, if you're targeting millennials, use cool tech gear to capture their attention. Present these items in an interesting and visually-pleasing way to make a lasting impression on prospective clients.
5.) Quality Moves You Closer to Your Business Goals
Quality promotional items are more likely to be held onto longer, making the prospect more likely to remember your brand. By focusing on quality, you can begin to make smarter use of your promotional budget and work toward achieving your business goals.
Conclusion
Promotional products have been used for years with enormous success, but times are changing. Consumers expect your brand to have high-quality swag presented in a unique and memorable way.
If you're sacrificing the quality of your promotional products by trying to save money, your brand will suffer for it. By improving the quality and presentation of your promotional products, you will be more likely to attract leads, win sales and get a better return-on-investment.