Branded Masks: What You Need to Know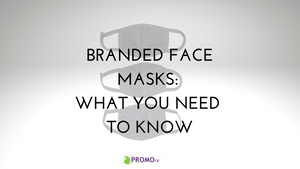 Branded face masks help everyone stay healthy. It's no surprise custom branded face masks are popular company and school giveaways. Companies care about their employees whether working remotely or back at their desk in the office. The same is true with schools and universities. If your program is virtual or on campus, protection is key. And don't forget customers or parents who may come to your location, too.
The CDC recommends wearing masks. Florida Atlantic University did a visual experiment testing mask efficacy. Be sure and watch the video on that link in the prior sentence.
How do you know the best branded masks to purchase? What are the mask features you should look for? 
The main objective in wearing a face mask is to capture particles in the air created while talking, coughing, singing, etc. When masks aren't comfortable, you're less likely to wear them period or position them correctly. For face masks to be truly effective, they need to be comfortable. That means easy to breathe through, and adjustable to accommodate your tiny nose, or my slightly larger one!
Buying branded masks comes down to two things. Yes. Two.
Form and Function.
How Should a Mask Fit? (FORM)
First, let's tackle 'form' also known as fit.
From the CDC article: "Put it over your nose and mouth and secure it under your chin
Try to fit it snugly against the sides of your face."
When buying custom branded masks (or even bulk non-branded masks), you don't want ill-fitting masks that leak air from the sides or over the top. To achieve the best fit for effective filtration (also known as capturing), look for these features:
Flexible nose bridge to give you better coverage, no gaps.
This also helps control fogging your eyeglass or sunglass lens.
Adjustable ear loops (being able to adjust will give you a better fit)
Adjustable head ties or straps if that's the style mask you prefer
Fitted style achieved with pleating/seams/overall design
What Features Should a Face Mask Have to PERFORM? (Function)
There is lots of info out there about best type of fabric for masks. We've seen poly, cotton, poly-cotton blends, microfiber and even recycled material. One consensus is you need multi layers for best function. Here are our recommendations based on our research: 
Have multiple layers, and preferably a pocket for a replaceable filter
Masks that can be washed
Masks that allow you to breathe easily. How a custom face mask is decorated comes into play here.
Heavy ink coverage could be a problem. Sublimated gives you all the colors
in the rainbow without having to breathe through the ink. Ask for details!
Fabric does matter.
Recommendations abound for cotton being the layer closest to your skin.
Our input after testing lots of masks:
The more comfortable a mask is, the more likely it will be worn, giving the intended protection
Look at mask sizes. They vary. The more adjustable options, the more likely they will fit more faces!
USA Made masks are typically more expensive
Even disposable masks should have the flexible nose strip
What Experts Say About Masks
Best fabric for a face mask from Stanford Medicine : " Based on our studies, the WHO now recommends a cloth mask of at least three layers of different materials. The outermost layer should be made of a fabric that is at least somewhat water resistant. That can be a fabric that is a combination of cotton and polyester, nylon or rayon."
 "Finally, the innermost layer should be a wicking material to draw moisture away from the face. One hundred percent soft cotton works well here. "
Again, from Stanford Medicine. This was a new one on us but something to consider: "to conduct a study of the effectiveness of various readily available household fabrics, including cotton, polyester, polypropylene, nylon and silk. We found we could make some materials as effective as a surgical mask by charging them with static electricity by rubbing them with latex gloves for 30 seconds prior to use. A similar approach is used in the construction of medical protective equipment, including surgical masks and N95 respirators. Overall, charging masks can increase their efficiency by as much as 30%, and the effect can last for many hours."
The World Health Organization has some do's and don'ts for mask wearing and care tips.
Our current branded mask recommendations: 
BUDGET FRIENDLY PRINTED FACE MASK
 NOTE: We are not doctors or scientists, simply gatherers of information from sources we respect or trust. None of our branded masks are designed for medical use. The use of a face mask or face shield is not a guarantee that you won't get an infection or virus. Social distancing and hand washing is still recommended even when wearing facial coverings. 
Don't see the mask you want to purchase branded with your logo? Reach out. We have access to lots of masks, not on our website. 
A trend we're seeing with branded masks: many of our customers are opting not to brand the masks with their logo. Instead, they're going with a clever saying, something to make you smile instead of their logo.