What My Late Mom and 'Dancing With The Stars' Have To Do With Gratitude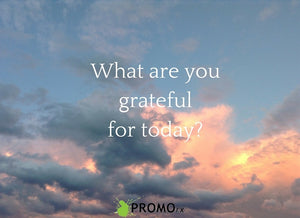 At my house, we have something called the "Jo Rules". Here are the basics:
All food tastes better when someone else fixes it.

Surprises break the monotony. Tell a family member or good friend you can't make it to a get-together--and show up. Tell someone you're coming Saturday and arrive on Friday. Just make sure they're already prepared for you before you show up unannounced! This may require a little behind-the-scenes recon from a friend.  And finally, why wait for birthdays for gifts? An unexpected gift is often the best.

Always say 'please', 'thank you', 'yes ma'm' and 'no sir', where appropriate (and it's almost always appropriate).

This rule from Jo was number one in my book, and still is today.
Who was Jo? My Mom.
Growing up, I was expected and encouraged to use my manners. If I didn't, I risked getting "the evil eye" from my Mom--not a look I wanted to see! Mom passed away when I was 19. There weren't a lot of years to get the "evil eye"--but it obviously made a lasting impression!
Several years ago, the late Florence Henderson (aka Mrs. Brady from the Brady Bunch television show) competed on Dancing With The Stars. After being voted off, she was so gracious, thanking everyone from the producers to the hair and wardrobe team, as well as her dancing partner. It's truly touching to watch, and makes her participation in the show all the more meaningful. After kissing the show's host on the cheek following her elimination, Ms. Henderson broke into a small speech:
"I've loved this show since it began, and I hope I've inspired people. I have been in television for over 50 years, and I have to say, this is one of the best produced shows I have ever been on."
-Part of Florence Henderson's graceful & grateful "farewell" on Season 11, DWTS
On the nineteenth season of the show, Rumer Willis offered similar gratitude for the experience. Regardless of her win, she remained humble and thankful. True to her generation, she gave thanks to her partner, Val Chmerkovskiy, in a slightly different way from Ms. Henderson, via Instagram:
"First I have to thank you as my teacher for challenging me everyday through your own passion and dedication to your art, for pushing me past the limits of what I believed I was capable of and even for occasionally driving me crazy with trying to make all of our dances the best they could be,"
-Part of Rumer Willis' farewell
There's a major generation gap between 81-year-old Henderson and 27-year-old Rumer Willis. But both women showed a level of gratitude and kindness that transcends age,  is arguably old-fashioned, and is certainly uncommon these days.
I say class, graciousness and good manners are never out of style.
I know we are all busy! We have personal lives, social lives, and business lives full of email, phone calls, social media, blogs, and websites. All of us have "to-do" lists that seem to grow daily.
Whenever I forget to say "thank you," I see that look on my Mom's face. And I immediately write a thank you note, an email, text or pick up the phone. 
It's never out of season for all of us to thank our clients, our coworkers, and our employees. It's time to be grateful for not just our personal contacts, but our professional ones.  For many of us, part of expressing gratitude is finding client or staff gifts.  The other part is being a grateful recipient and acknowledging the gift via email, message or by phone, both promptly and graciously. Gratitude. It's not just about the holidays.
Schedule a free 15 minute business gift consultation with Vickie (that's me!), Jo's daughter. 888.553.9569 extension 3 or email Vickie at PROMOrx dot com