4 Key Words That Will Make...or Break Your Marketing Strategy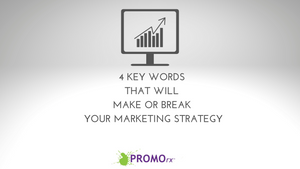 Promotional products share almost seven percent of the advertising market in the U.S alone. But what's most helpful to you, the buyer is that promotional products are ranked highest by consumers across all generations as the most effective advertising vehicle.
That's great news for companies that cross-promote to more than one audience.
But unless you can spot the trends and know which products are valued by each audience, promotional giveaways are just another expense. 
Spotting trends and knowing when and how to use them is your best way of ensuring ROI, or at the very least, making sure your brand stands out in a sea of competition.
But you already know that experience proving the effectiveness of one product over another doesn't always come cheap.
That's why we've put together a quick list of key words that will help you choose what will work for your audience based on the latest market research and trends. 
So here are four key words that can save you time and money on your path to finding the product that speaks to your market.
Quality
Remember when you went trick-or-treating on Halloween as a kid? Everyone flocked to the house that had the full-sized chocolate bars, right? And what happened to the house that gave out toothbrushes with the dentist's business card?
Nothing has changed. We still talk about the businesses that go the extra distance and provide quality promotional gear. And we're still not impressed by the less than authentic attempt at manipulation by the companies that forget who they are marketing to.
Branded material has moved up in the world and more and more companies are moving toward the higher quality, higher profile giveaways. That holds true for all generations, but especially millennials. They have very little patience for cheap and poorly thought-out marketing.
Quick tip: If you are promoting high-end products or services, but you reach out to your potential customers with low-end, cheaply made gifts, you may be sending mixed messages that your buyer won't take the time to decipher. What you put your brand name on says a lot about the quality of your own company and how customers will be treated in the future.
Tech
When it comes to tech, all you have to remember is that whatever products enhance your buyers' lifestyle are probably winners.
As long as they are of good quality.
According to the latest PPAI consumer study, 48 percent of millennials said they kept promotional products because the design fit their style and/or personality.
And there is your key takeaway. Target the demographic you are trying to attract. Provide branded accessories that they love to be seen using. 
Your branded promotional products have the highest advertising reach above any other form of advertising providing exposure on a daily basis, according to the same study. 
That's a huge opportunity for your company. Five in 10 consumers polled stated they come in contact with promotional products most of the time or at all times during their day.
Quick Tip: When you provide high-quality, high-demand cool tech giveaways that people want to be seen with, you dramatically increase your company visibility. The National Retail Federation highlights that this year's tech trend is about exploring what to expect in the future. So keep an eye on what's hot, but keep both eyes on what's sure to be the next tech customer experience.
Retail
There's a shift. Customer convenience has taken a primary role in the choice of products over the last few years, enhanced by the choices consumers have in the retail world. That trend will only increase in popularity.
Every year consumers have come to expect the same experience across platforms. In other words, they expect the same lightning fast service, ease of use, and the number of choices they have online in all of their product experiences.
The ultra-insulated mug they find on Amazon, for example, is the product to beat if you're thinking about branded travel mugs. Expect to see more and more promotional items mimic the experience of high-end retail products.
And expect that your audience will be looking for nothing less from your products.
Quick Tip: When choosing a product as a company welcome, or a customer gift, pick something that reflects not just your company logo but is also something your employees or clients will choose over the product they bought for themselves.
Sustainability 
"What we are doing to the forests of the world is but a mirror reflection of what we are doing to ourselves and to one another."  — Mahatma Gandhi
The world is changing and being sensitive to how our choices affect the planet and each other are of primary concern for a growing number of people. Sustainability is not just a fad or a trend. It has become a way of life.
In marketing, when you make a product selection, your choice is more than just a reflection of how we see ourselves and the world around us. It's also a reflection of our company values and beliefs.
Choose wisely and choose with your target audience in mind. Failing to get to know your know your audience before you buy, could be embarrassing, to say the least.
Quick Tip: Choosing the right products means everyone wins. Make sure to evaluate not just the trusted products you've used in the past, but also the Eco-Friendly choices to reflect the company values you want to share with the world.
The Wrap
Four key words can make or break your marketing strategy. But the ultimate strategy is knowing how to combine them for the best customer experience.
Begin by choosing quality products. They are a peek behind the curtain to your company values and set the bar for customer expectations.
Choose tech items that reflect the user's style and personality so they love being seen with your branded product.
Keep an eye on retail trends. It's a fair assumption that what's hot in retail is what you should be looking for in a branded product giveaway.
Remember to take into consideration how products reflect your company values and the values of those who will receive them.
Begin with quality and then evaluate your product choice using the remaining three. It's a four-step solution to ensuring your marketing strategy is a success.